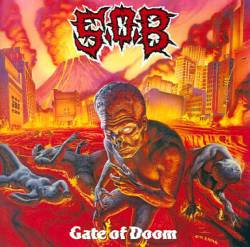 Frère spirituel de Napalm Death au pays du soleil levant, SOB entame tout comme son confrère britannique un virage progressif vers le deathmetal après la folie hardcore/grind du virulent Don't Be Swindle et le grindcore fracassant du tout aussi culte What's the Truth ?.
Le quatuor nippon revient effectivement en 1993 en allongeant notoirement la durée de ses morceaux, accroissant la lourdeur et la précision de ses guitares avec un mixage confié aux mains expertes de Colin Richardson dont le talent n'est plus à prouver, et remettant enfin l'illustration de son album Gate of Doom aux bons soins du maître Ed Repka, qui leur dessine une superbe pochette à l'ambiance de mort certaine, bref autant d'éléments rapprochant sensiblement le groupe du giron deathmetal.
L'introduction massive du morceau Delusions of Terror, les breaks tout en lourdeur des géniaux Trapped in Cancer et Human Error, ou encore le chant majoritairement guttural de Tottsuan Suzuki confirment ainsi cette direction vers une assise deathmetal assez évidente.
SOB n'a toutefois pas rangé sa furie hardcore/grind légendaire au placard, se lâchant régulièrement dans des passages plus directs, à l'image d'un fougueux Mind Empty of Hapiness ou d'un Downfall Civilization tout aussi spontané, d'un Ultimate End of Earth aux accélérations fracassantes, ou s'emballant dans des rythmiques d'une violence débridée, soutenues par le chant de Tottsuan se muant en des cris démentiels.
Sans perdre son identité et gardant son côté contestataire, SOB lâche ainsi l'album le plus lourd et le plus death de sa carrière, tout en conservant cet art du riffing simple & percutant, sans compter cette folie latente qui le caractérise à merveille. Un peu moins furieux que ses deux inestimables prédécesseurs, Gate of Doom regorge en tous cas d'instants à s'en dévisser la tête, tel un parfait compromis en blast-beats explosifs et passages rentre-dedans aux riffs tout aussi meurtriers. Le dernier album d'une trilogie incontournable pour tous les amateurs de Siege et Napalm Death.
Fabien.

9 mars 2011