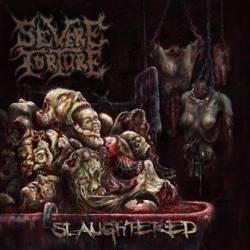 Depuis le très bon Fall of the Despised sorti chez Earache Records, Severe Torture avait notoirement et judicieusement aéré son style, apportant une dose finesse dans ce monde de brutes avec beaucoup de talent. Toutefois, après un Sworn Vengeance tenant plus difficilement ses promesses, le groupe emmené par Dennis Schreurs tenait à embrasser de nouveau la barbarie de ses débuts.
Ceci est chose faite sur son cinquième effort doucement baptisé Slaughtered, à commencer par sa pochette grasse et sans grande équivoque. Le quinquet néerlandais revient ainsi en ce mois de juin chez le label estimé Season-Of-Mist, quittant le navire Earache qui, hormis Blood Red Throne, perd successivement ses derniers groupes deathmetal.
Il suffit des bons morceaux Unholy Misconception et Defective Fornication pour comprendre combien Severe Torture retrouve le sens de la brutalité qui l'animait au départ. Loin de blast-beats ininterrompus, le jeu de Seth impressionne par sa puissance, sa précision et ses accélérations dementielles, offrant une réelle dynamique aux compositions. Les guitares de Thijs et Marvin se font également à la fois plus lourdes et plus agressives, sans compter le guttural gras de Dennis, arme imparable de la formation.
N'allez toutefois pas croire à une brutalité systématique dans les morceaux, Slaughtered mariant habillement la barbarie des débuts à toute la finesse dont Fall of the Despised débordait. Ce mélange judicieux, allié à un sens du riffing particulièrement catchy, offre ainsi beaucoup de saveur à chacune des compositions, à l'image des finaux tout en subtilité des excellents Grave Condition et Feeding on Cadavers, du délectable interlude To Relieve the Mortal Flesh, ou encore du solo éclatant au coeur du titre éponyme.
A la fois terriblement brutal, varié et particulièrement soigné dans sa mise en place, synthèse réussie de la carrière du combo, Slaughtered devrait réconcilier les anciens deathsters ayant lâché le groupe un peu trop hâtivement. En cette bonne année 2010, Severe Torture parvient ainsi à concilier la brutalité la plus crue aux mélodies les plus fines, confirmant sa place parmi les formations bataves de premier choix. Une bien belle surprise.
Fabien.
25 août 2010