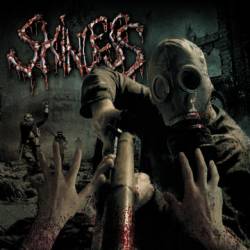 Paru en juin 2006, Trample the Weak, Hurdle the Dead est le quatrième album de Skinless, groupe formé en 1992 dans l'état de New York autour du guitariste compositeur Noah Carpenter. Après l'épisode From Sacrifice to Survival en 2003, Skinless revient avec un deathmetal plus massif et plus direct, brillamment mis en image par Orion Landau, le graphiste attitré de Relapse. La pochette affiche en effet clairement la couleur, avec ce soldat achevant l'ennemi sans défense dans un décor chaotique soumis aux radiations nucléaires.
Dès l'introduction du CD dans la platine, Trample the Weak marque par le son puissant et massif des guitares, lourdes et suffisament techniques, collant parfaitement au concept violent et guerrier développé tout au long de l'album. L'ensemble, mixant à la fois ce côté écrasant et tapageur, ne laisse peu de répit à l'auditeur, à l'image des titres Overdose ou Unilateral Disgust, tels des 38 tonnes broyant tout sur leur passage, à coup de grinding parts terrassantes. La production de Brett Portzer au Max Trax studios est en ce point notoire, apportant une intensité métallique toute particulière.
Côté chant, Jason Keyser intègre la bande avec brio, usant d'hurlements gutturaux à décorner n'importe quel taureau, mais également d'une voix plus écorchée, qui apporte plus de relief aux compositions. Enfin, si l'écoute se poursuit sans histoire, la reprise de Black Sabbath "Wicked World", certes réussie, casse un peu l'ensemble, dérogeant par rapport à l'extrême brutalité de l'ensemble.
Lâchant un Trample the Weak plus brutal mais moins varié que son précédent effort, Skinless est visiblement décidé à terrasser le deathster. Toutefois, son nouvel album ne révolutionne pas non plus le genre, et ne fera visiblement pas encore basculer le groupe de son statut d'outsider à celui de leader. Il reste néanmoins une réalisation efficace et un pur produit Relapse, à la lourdeur considérable mais aussi au groove indéniable.
Fabien.

Fabien.
28 mai 2007