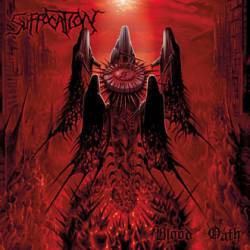 Jusqu'ici Suffocation a toujours réussi à justifier son statut de groupe culte, splitté momentanément en 1998 après le bon MCD Despise the Sun, les hommes de Frank Mullen avaient réussi un bon retour avec Souls to Deny en 2004. Les disques des new-yorkais ont ainsi traversé deux décennies sans réellement prendre de ride, prouvant même avec le redoutable album éponyme (l'une des meilleures sorties Death de 2006) qu'ils avaient encore bien leur place au sommet de la chaîne alimentaire du Death Metal aux côtés de Krisiun, Nile et Hate Eternal.
Du coup, on commençait à croire que Suffocation était incapable de sortir un album moyen. De plus un pas en avant supplémentaire semble avoir été franchi dans leur longue carrière, le groupe quittant la maison mère Relapse pour le encore plus énorme label allemand Nuclear Blast. De plus la superbe pochette pourpre de Blood Oath laisse à penser qu'une fois de plus, les précurseurs du Death brutal et technique vont nous proposer comme de coutume des compositions inspirées et surpuissantes.
Le titre Blood Oath démarre d'ailleurs sur une rafale très véloce de double pédale qui n'est pas sans rappeler Hate Eternal. Pour le reste les riffs et le style Suffocation est immédiatement identifiable avec des guitares aux riffs précis et relativement complexes, une basse claquante appuyant magistralement la batterie, la production puissante et claire comme sur le disque précédent et évidemment le growl reconnaissable entre mille de Monsieur Mullen. Dismal Dream est idéalement placé en deuxième position pour lancer définitivement ce disque, balançant un break terrible suivi d'un déluge de rythmiques très appuyées de la paire Marchais / Hobbs. La lourdeur et l'énergie développée sur ce titre rivalise donc sans problème avec les deux disques précédents.
Seulement au bout de quelques titres, un léger sentiment de déjà-vu commence à s'installer, non que les chansons soient mauvaises, Images of Puragory déployant au passage la grosse artillerie au niveau des guitares (que ce soit en rythmiques comme en solo) ou Undeserving proposant des arrêts et des accélérations redoutables de précisions et même quelques riffs dissonants auxquels Suffocation ne nous avait pas habitué jusqu'ici.
Oui mais voilà, un morceau comme Cataclysmic Purification par exemple semble déjà avoir été cent fois entendu sur d'autres albums de Suffocation et malgré un profil taillé pour la scène, il donne une nette impression de redite.
Il est assez clair que Terrance Hobbs et ses sbires se sont contentés de composer comme ils savent le faire sans trop se casser la tête, alors bien sûr même à 80% Suffocation enterre encore la plupart des jeunes groupes, Mental Hemorrhage en remontre à beaucoup niveau puissance et Frank Mullen y fait étalage de son extraordinaire guttural profond, mais il y a des choses qui ne trompent pas : Marital Decimation vieux morceau repris d'un autre de leurs albums Breeding the Spawn (comme les Deathsters new-yorkais se plaisent à le faire sur chaque disque), est l'un des plus incisifs de l'album…
Blood Oath mauvais et sentant le sapin pour le groupe ? Certainement pas, seulement lorsqu'un combo génère une telle attente auprès du public, la déception est forcément au rendez-vous si un disque énorme n'est pas à l'arrivée, Suffocation n'est tout simplement pas parvenu à se transcender, prenant tranquillement la vitesse de croisière. Si on veut se hasarder à une comparaison, avec Effigy of the Forgotten et Pierced From Within ils bombardaient à 200 sur l'autoroute, sur Suffocation ils étaient tout de même à 160, ici ils se contentent de tenir paisiblement un bon 135 au régulateur de vitesse… Rassurons nous, Frank Mullen et ses collègues n'ont pas encore emprunté les départementales comme Obituary ou les chemins vicinaux comme Six Feet Under…
A défaut de rester dans les annales, Blood Oath vient s'ajouter à la liste déjà conséquente de bons albums Death Metal de 2009 et permettra aux fans du combo (et croyez-moi je sais de quoi je parle) de passer un très bon moment. Peut-être Suffocation franchira t-il un nouveau cap de reconnaissance grâce à l'énorme potentiel de distribution de Nuclear Blast pour peu que celui-ci juge le groupe comme une priorité (ce qui est loin d'être certain…). Allez, le prochain sera légendaire et se hissera au niveau de Effigy of the Forgottent et Pierced From Within, je le jure sur les têtes de Charles Trenet et Tino Rossi…
BG (www.spirit-of-metal.com).
Depuis sa reformation, Suffocation n'est pas parvenu à maintenir la pleine intensité de ses débuts. Le plus gros défaut de Blood Oath reste son côté parfois poussif, manquant dans l'ensemble de brutalité. Ainsi, autant j'apprécie un titre comme Dismal Dream, autant la suite de l'album manque bien souvent de morceaux vraiment percutants. Toutefois, au-delà de mon exigence accrue envers Suffocation, Blood Oath reste un bon disque, au dessus de la masse brutaldeath actuelle. Ses plans lourds et architecturaux, me rappelant souvent la période Breeding the Spawn, prennent encore plus d'ampleur au fil des écoutes. Et puis, quelle pochette de Jon Zig ! Fabien.
30 juin 2009