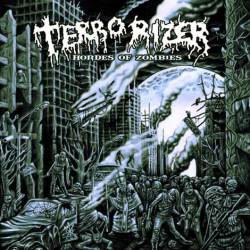 Le retour de Terrorizer en 2006 reste bien sûr marqué par la disparition de Jesse Pintado le 27 août de cette même année, quatre jours après la sortie de Darker Days Ahead, second album vieillot ayant comme principal attrait la résurgence de quelques compositions issues des années 80's. C'est en 2008 que Pete Sandoval, batteur de Morbid Angel et ultime membre fondateur de notre groupe death/grind californien, contacte le growler Anthony Rezhawk afin de remettre une nouvelle fois le groupe sur pied, sa fibre étant visiblement restée intacte. Vieille connaissance de Jesse et guitariste au sein de Resistant Culture en compagnie d'Anthony, Katina hérite logiquement du poste à la six cordes et participe activement à l'écriture, tandis que le label Season-of-Mist finalement intéressé par l'énième retour de Terrorizer, et ayant entre temps récupéré Morbid Angel dans son catalogue, propose David Vincent au poste de bassiste, 23 ans après sa prestation sur le mythique World Downfall.
Initialement capturé en janvier 2009 avant l'opération du dos de Pete Sandoval, qui lui coutera une année d'immobilisation et son absence sur le tant décrié Illud Divinum Insanus de Morbid Angel (que le batteur n'est visiblement pas pressé de rejoindre), Hordes of Zombies sort tardivement en début MMXII, bénéficiant d'un enregistrement maison (mais béton) par la guitariste, et d'une finalisation (mixage & mastering) tout aussi professionnelle de Dan Swanö au fameux Unisound Studios d'Orebrö en Suède.
Si Hordes of Zombies nous renverrait plus volontiers vers de belles histoires de mort-vivants qui trouveraient idéalement leur place dans un décor si cher au deathmetal, il faut y voir avant tout une vision critique de la société propre au mouvement grindcore, un monde où l'apathie et l'ignorance font des humains des zombies, pour reprendre les termes exacts du parolier Anthony Rezhawk. Musicalement, Terrorizer n'a toutefois plus vraiment de rapport avec la scène hardcore/grind dont il est issu, tant les structures et le riffing de ses nouvelles compositions nous renvoient directement dans les terres connues du deathmetal.
En ce cru MMXII, on a non seulement affaire à un Terrorizer bien plus moderne que lors de son apparition sur le fade Darker Days Ahead, mais aussi plus rapide et extrême que jamais. Les blast-beats si précis et sans relâche de Pete 'Commando' Sandoval, alliés aux guitares tout aussi incisives de Katina, donnent un cocktail détonant, bien que parallèlement les vocaux d'Anthony manquent de hargne, sans compter les lignes de basse particulièrement discrètes de David Vincent, bien plus occupé en ce temps à l'élaboration de l'impensable Illud Divinum Insanus.
Muni d'une production claire & incisive et bénéficiant d'une exécution tonitruante, Hordes of Zombies fait ainsi forte impression dès son ouverture sur son morceau éponyme et le tout aussi solide Ignorance and Apathy, mais tourne toutefois assez vite en rond en lâchant un riffing simple et de même teneur, bâti autour de rythmiques implacables et de breaks qui deviennent rapidement prévisibles. L'absence de cette touche hardcore fait également défaut, couleur que l'on retrouve partiellement sur le bon morceau Wretched, uniquement et étrangement disponible sur la première édition en tirage limité.
Si aucun deathgrinder n'est dupe quant à la possibilité de retrouver un jour la magie de l'intemporel World Downfall, on reste toutefois loin avec ce troisième effort de la faiblesse d'un Darker Days Ahead qui, sans être mauvais, avait détruit le mythe plus qu'autre chose. Sans concession, le nouvel album montre la bande de Pete Sandoval plus moderne, plus véloce et plus extrême que par le passé, plus distinctement ancrée dans le deathmetal également, mais pêche en revanche par son déroulement globalement assez linéaire, sans compter l'absence des growls teigneux d'Oscar Garcia, l'ancien et irremplaçable frontman de nos Terrorizer et Nausea respectifs.
Fabien.
7 mars 2012