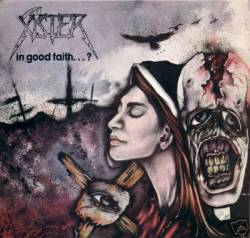 Formé en 1983 à Warrington, Xyster débute sa première partie de carrière sous le nom de Ted Heath et évolue tout d'abord dans un style punk, jusqu'à l'arrivée en 1986 du guitariste & chanteur Steve Hatton et de la sortie de la demo-tape 30 Minutes of Metal, où le groupe s'ancre définitivement dans le thrashmetal, à l'instar de nombreuses formations anglaises comme Onslaught, Metal Messiah ou Anihilated ayant connu sensiblement le même parcours. Le trio est plus particulièrement remarqué à l'occasion de sa démo Black Bible de 1989, qui connaitra dans la foulée une édition en split-CD avec les cross/thrashers bataves de Brutal Obscenity chez CCG Underground Recordings. Ce label ayant pressé quelques démos en vinyle 12′ (45rpm), comme des maquettes d'Exmortis ou Ripping Corpse (excusez du peu), est en fait une division de la tout aussi modeste écurie britannique CMFT de Daryl Turner
CMFT, c'est effectivement un petit label ayant inclus quelques groupes anecdotiques comme Snyper, Moral Crusade ou Pendemia, tout en ayant signé quand même Tiamat (pour Sumerian Cry) ou Asphyx, bien que l'album Embrace the Death de ce dernier n'ait jamais vu le jour (jusqu'à sa réédition en 1996 par Century Media), faute à la banqueroute du label de Daryl additionnée à la perte tragique de ses aïeux. Bref, ayant déjà sorti la démo Black Bible via CCG, Daryl propose logiquement un contrat d'un album à Xyster chez CMFT, se concluant par l'enregistrement et la sortie du vinyle LP In Good Faith…? en 1989.
Tout comme son compatriote Anihilated, l'influence principale de Xyster est indéniablement Slayer. Beaucoup de plans de batterie et de nombreux riffs renvoient directement vers la formation culte d'Hanneman / King, quelque part entre Hell Awaits et Reign in Blood. Mais là où Anihilated tire plus distinctement son épingle du jeu, Xyster s'en sort plus laborieusement. In Good Faith…? possède en effet deux points noirs significatifs. Premièrement sa production qui relève plus du niveau d'une demo-tape que d'un album à part entière, notre trio s'en sortant en effet aussi bien sur sa maquette Black Bible, tout comme son confrère Metal Messiah n'ayant pas eu un son à la hauteur pour son premier album. Deuxièmement, la voix de Steve Hatton, décidément meilleur guitariste que chanteur, loin de l'excellence de son confrère Jon Van Doorn chez le génial Deathwish, et cherchant piteusement à imiter les cris haut perchés de Tom Araya.
Style générique, production moyenne, chant laborieux, mais où est donc l'intérêt d'In Good Faith…?. Tout simplement dans la qualité de ses riffs et sa couleur Kinghannemalombardesque irrésistible. Les lignes de guitares, les relances et les breaks garnissant des morceaux tel que Subnormal, Die on the Cross ou Suicide sont franchement jouissifs pour tout thrasher normalement constitué dans les eighties, à condition qu'il ait gardé au moins un pied dans les prod's underground. La récente réédition en LP/CD chez Moshtuneage est l'occasion à un ou deux égarés de découvrir ou redécouvrir un album objectivement dans la masse, mais que mézigue adore s'envoyer.
Fabien.
16 avril 2013