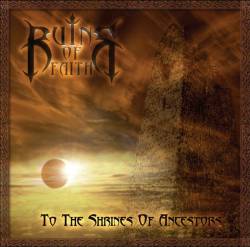 Il est dommage que la Géorgie soit si peu connue dans le monde du metal car ce pays cache des petits groupes ayant leur personnalité et leur façon de nous concocter des albums inspirés par la culture locale. Ruins Of Faith est fondé en 2001 par trois garçons qui avec le temps s'avéreront très fructueux, quand on sait que certains d'entre eux font désormais partie de formations telles que Im Nebel ou Valley Lord.
« To the Shrines of Ancestors » est le seul album sorti à ce jour. Signé chez Haarbn Productions, il se compose de neuf morceaux et d'une bonne dose de mysticisme, ce qui peut se voir d'office avec la pochette très chaleureuse et explicite, avec ce soleil, cette tour et cette opposition lumière/obscurité. Rien de très oriental malgré les apparences, toutefois Ruins Of Faith utilise des claviers symphoniques et des nappes atmosphériques afin de les intégrer à son black metal mélodique aux légères consonances pagan.
Parfois proche d'un Nagflar ou d'un Rotting Christ, les Géorgiens arrivent à utiliser la mélodie pour créer une ambiance épique en utilisant la vélocité des guitares et des rythmes. Rien de très brutale cependant, tout se base sur l'harmonie entre tous les instruments et le chant black hargneux de Vasiko, même si les claviers peinent à être utilisés à leur maximum. Car si certaines nappes sont pour la plupart du temps happées par la puissance des guitares, d'autres restent uniquement présentes en début ou en fin de titres (« Father Fire »), et on aurait aimé plus de fusion comme sur « The Everquest » ou « Ruin of Faith ».
Cependant, ce sont bien les instrumentales « To the Shrines of Ancestors », part 1 et 2, qui mettent bien en valeur l'aspect pagan et les claviers, mettant l'accent sur le côté symphonique, les choeurs et les samples de vent. Mais elles ne servent que d'interlude et font finalement un peu tache dans ce black mélodique qui peine à varier : le rythme est toujours le même ainsi que les quelques notes répétitives de claviers en fond. Seul « Mournbringer » arrive à apporter un peu de changement et d'émotion avec ces alternances de parties. Toutefois cela n'empêche pas aux guitares d'être énergiques et à la batterie d'être friande de blast beats, malgré sa mécanicité apparente.
Ruins Of Faith livre un album correct mais manquant de variation, si bien que l'ennui peut vite pointer le bout de son nez. Toutefois, on ne peut renier l'aspect efficace des guitares et de la voix qui embarquent l'auditeur dans ce monde épique et pagan.
Leave a reply
You must be logged in to post a comment.