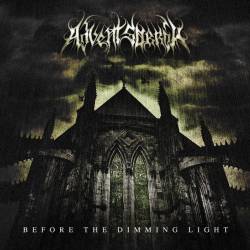 On ne pourra pas dire que les sorties black symphoniques sont rares cette année, et pour cause : différents pays se mettent enfin en valeur et nous n'aurons pas besoin de nous orienter vers la Norvège, la Russie ou les Etats-Unis. En effet, c'est du côté de l'Australie que nous allons, avec une petite formation du nom d'Advent Sorrow (à ne pas confondre avec son confrère américain « Vesperian Sorrow »).
Le sextet originaire de Perth peut se targuer d'apporter un petit coup de boost dans une scène black symphonique australienne quasi morte. Que retenons-nous vraiment de ce style dans ce pays à part les expérimentations de Nazxul ? Pas grand chose. Et il se peut qu'Advent Sorrow renverse la tendance, ce qui ne serait pas mauvais en soit. Toutefois, l'orientation prise par le groupe ne peut qu'engendrer des doutes quant à son futur et sa durée, car une fois de plus, nous voilà face à un combo inspiré par Dimmu Borgir (au niveau de la musique) et Carach Angren (au niveau de la voix et du concept).
Même si les Australiens intègrent des éléments liés au death et parfois au doom, c'est bien à un arrière goût de déjà entendu que nous avons à faire. L'EP « Before the Dimming Light » raconte l'histoire cauchemardesque d'un tueur, qui tombe peu à peu dans la folie. On le voit attendre son exécution tout en apprenant ce qui l'a rendu paranoïaque, tandis que les textes nous décrivent ses atrocités ainsi que son goût pour la violence. On nage en plein horreur et chagrin.
La musique d'Advent Sorrow n'est, en soit, pas originale. Les relents dimmuborgiens sont omniprésents : le début de « Before the Dimming Light » rappelle fortement le « Reptile » des Norvégiens tandis que les violons et piano de « Wraith of Silence » font irrémédiablement penser aux opus suivants. Heureusement qu'il y a une certaine hargne et un dynamisme imprenable pour se laisser prendre au jeu. Les différentes alternances permettent un peu de variation, notamment lorsqu'arrivent les vocaux death ainsi que les riffs caractéristiques. Les claviers et les samples apportent beaucoup aux compositions d'Advent Sorrow, ce qui permet d'apporter ce côté horrifique et tragique, comme sur « Insidious Memories », l'auditeur étant dans les souvenirs du tueur. Les guitares arrivent tout de même à se démarquer et à ne pas se laisser écrasées par les envolées au clavier.
« Withered by Her Curse » est une très bonne conclusion car il permet de découvrir plusieurs humeurs et plusieurs parties, entre des débuts inquiétants et agressifs, soutenus par des blasts bien placés, un milieu emmené par des arpèges au piano à la Dimmu Borgir (malheureusement ou heureusement, tout dépend des points de vue), des passages plus lents et plus proches du doom, et une fin plus torturée, plus triste, avec son violon mélancolique, laissant place à un growl profond et une étonnante lourdeur.
Advent Sorrow ne livre pas un EP très original malgré une volonté d'apporter quelques touches personnelles, mais au moins, il offre à l'auditeur vingt cinq bonnes minutes de black/death symphonique tout en offrant à l'auditeur le moyen de s'imprégner d'un certain concept, et ce, avec une bonne production faite maison.
Leave a reply
You must be logged in to post a comment.