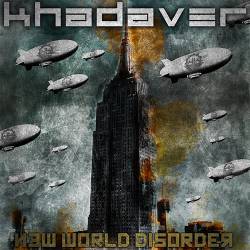 La Slovaquie est en passe de faire parler d'elle en matière d'indus/cyber. Après les méfaits de 0n0, c'est au tour de Khadaver de s'affirmer, après la sortie d'un EP, « God-RW » en 2010. Le duo mené par Nihil Nix décide une nouvelle fois de s'auto-produire et de s'affranchir de tout label afin de sortir son premier full length. Originellement nommé « Opus Novum », c'est sous le patronyme de « New World Disorder » que nous découvrons le cyber metal à tendance black metal des Slovaques.
Le groupe est majoritairement influencé par la musique électronique et le black metal, ce qui se ressent dans la majeure partie des titres. On retrouve aussi quelques ambiances gothiques sur certaines plages (« Vacuity »), mais c'est bien l'aspect cybernétique qui prédomine, mis en valeur par des compos futuristes, froides, torturées et pessimistes et des thématiques cyberpunk sur la dystopie ou l'holocauste nucléaire ainsi que des critiques sur la religion et la politique.
Après une introduction très pessimiste dépeignant une Europe en flamme, c'est « Kampfbereit » qui met la gomme à coup de touches électroniques, de guitares accrocheuses et d'une alternance de chant clair et de chant black voire death. Le tout continue sur « 21th Century Antichrist », mettant l'accent sur le côté EBM du rythme et le côté criard de la voix, tout en incorporant des éléments industriels très sympathiques ainsi que des choeurs.
En peu de temps, on peut se rendre compte des influences de Khadaver, les plus flagrantes étant T3chn0ph0b1a (le mixage a d'ailleurs été confié à 5kott de ce groupe-ci) et surtout The Kovenant. Cela se ressent davantage avec l'éponyme « New World Disorder », agissant comme une fusion de la période « Animatronic » (pour le côté black) et la période « SETI » (pour le côté cyber) des Norvégiens. D'ailleurs, le nom du titre « New World Disorder » reste très proche du « New World Order » de leurs compères, une allusion on ne peut plus pessimiste. Musicalement, c'est tout à fait ça.
On ne peut qu'évoquer le « Semi Automatic » de Deathstars pour parler du « Battle Zone » de Khadaver, l'introduction étant quasi similaire. La suite est différente cependant, les éléments black prenant le dessus ainsi que le côté bien dansant des rythmes. La fin de l'album semble toutefois privilégier les touches atmosphériques dans le jeu de guitare et l'électronique, comme « AD Assault » ou « Technofuneral », bien cybernétique au niveau des arrangements.
Pour apprécier un tant soit peu Khadaver, il faut aimer l'électronique et le côté criard de la voix black. Si ceci vous est acquis, cet album est pour vous. Les Slovaques misent sur une musique dynamique et futuriste entre Deathstars, The Kovenant et T3chn0ph0b1a, en instaurant une bonne ambiance de monde en perdition sous couvert d'un cyber très électro.
Leave a reply
You must be logged in to post a comment.