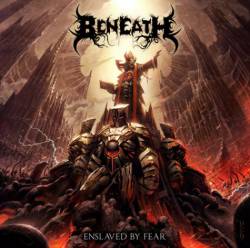 On ne croise pas énormément de groupes islandais, mais lorsque certains font leur apparition, c'est du très lourd. C'est le cas de Beneath, formation de death metal originaire de la capitale Reykjavik et comprenant des ex-membres de Charger et Sororicide. Depuis cinq ans maintenant, leur musiciens font lentement parler d'eux avec un petit EP du nom de « Hollow Empty Void » en 2010. Le tout premier album, « Enslaved by Fear » a dû mijoter un bon moment avant de trouver le label adéquat et c'est la prestigieuse écurie Unique Leader qui s'est chargé de signer ce méfait mixé par Daniel Bergstrand aux Dug Out Studios (Strapping Young Lad, In Flames, Meshuggah), l'artwork étant réalisée par Raymond Swanland (Deeds Of Flesh, Psycroptic).
Armé de thématiques apocalyptiques et anti-religion, Beneath nous en fait voir de toutes les couleurs avec ce « Enslaved by Fear » au son très professionnel. « As Gods Walk the Earth » démarre sur les chapeaux de roue avec un morceau très énergique où s'entremêlent les parties brutales et les parties mélodiques. Les Islandais maîtrisent leur sujet tout en instaurant quelques touches techniques, soutenues par un growl charismatique et de bonnes harmonie à la guitare. Pas de répit jusqu'à un « Lies of the Dead » efficace et musclé.
Au fil des morceaux, Beneath révèle ses multiples influences, que ce soit Behemoth ou Morbid Angel. Il puise aussi du côté du black metal avec le terrible « Enslaved by Fear » ou l'instrumental « Heretics » où les moments les plus calmes et les plus ambiancés tranchent avec les moments plus rapides et blastés. N'oublions pas le doomesque « Monolith » qui porte bien son nom, long et à l'atmosphère pesante, sombre et mélodique. Il montre une différence de rythme non négligeable, créant une cassure au sein d'un album agressif et costaud.
Le quintette signe là un coup de maître avec un opus prenant de bout en bout, mélangeant l'old school avec le moderne, la brutalité avec l'harmonie, au sein d'un death metal ravageur et loin d'être amateur. La présence du chanteur des défunts Sororicide (plus vieux groupe de death en Islande) ainsi que le talent de chacun apportent par conséquent un plus aux compositions de Beneath, qui risquent fort de faire parler d'eux à l'avenir.
Leave a reply
You must be logged in to post a comment.