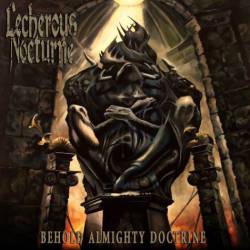 Lecherous Nocturne fait partie des formations death metal sud-caroliniennes de valeur, au fort potentiel, aux côtés de Nile pour ne citer qu'eux. Le combo s'est vite fait remarquer avec la sortie de «Adoration of the Blade » dans lequel on retrouvait une combinaison de membres réputés comme Chris Lollis et Dallas Toler-Wade de Nile ou Mike Poggionne de Monstrosity. Un line up de choc qui a tout de suite mis les pendules à l'heure et ça, Unique Leader l'a bien vu car il n'a pas perdu de temps pour signer le fameux «The Age of Miracles Has Passed » en 2008.
C'est après la sortie de cet album que le line up devient moins stable. Jeremy Nissenbaum, qui prenait la place de Toler-Wade, se retrouve remplacé par Alex Lancia, tandis que Poggionne laisse sa place à James O'Neal (malgré un guest sur le titre « Creation Continuum »). Courant 2011, alors que les nouveaux morceaux sont quasiment tous composés, une petite polémique se déclenche avec l'évincement du chanteur Jason Hoheinstein, criant haut et fort qu'il s'est fait viré alors que l'annonce officielle stipule qu'il est parti de son propre chef. En définitive, cela permet au groupe de retrouver Chris Lollis, qui cette fois-ci, laisse sa guitare pour attraper le micro.
Officiant toujours dans un brutal death proche de Hate Eternal, Lecherous Nocturne ne succombe pas à la fainéantise ni au ressentiment et nous ressort un opus en béton armé enregistré au SoundLab Studio en compagnie de Bob Moore. Les morceaux sont de nouveau sans concessions et vont droit au but, sans tourner autour du pot. Du coup on ne va pas au delà des trois minutes trente mais cela suffit amplement si on veut profiter de la musique des Américains sans avoir à faire à des longueurs.
Des titres comme «Ouroboros Chains » ou « Lesions from Vicious Plague » nous montrent tout le savoir faire de Lecherous Nocturne qui mise sur les gros riffs couplés à une batterie percutante et au chant imparable de Lollis. Le combo n'a pas perdu son énergie et sa fougue, en témoignent «Bring the Void » et « Archeopteryx » terriblement efficaces avec cet enchaînement de riffs maîtrisés et cette rapidité d'exécution. C'est un fait : Lecherous Nocturne ne nous laisse pas le temps de réfléchir et nous agresse avec sa brutalité fine. Ambiance sombre et instrumentations glauques sont parfois au rendez-vous comme l'intro, l'outro et le prélude au piano qui, même s'ils agissent comme un répit, ne nous font pas pour autant quitter l'univers particulier des Américains.
Le couple basse/batterie fait de nouveau mouche comme sur un « Those Having Been Hidden Away », toutefois, une fois encore, on n'a pas le plaisir de retrouver des soli, qui auraient pu relever les compositions. Le niveau est déjà très haut mais un peu de relief ne fait jamais de mal, d'autant plus que le chant de Lollis manque quelque peu de profondeur.
« Behold Almighty Doctrine », malgré ses quelques minutes de plus au niveau de la durée de vie, ne surplombe pas son prédécesseur mais reste un album de choix bien efficace – à défaut d'être intense – pour tous les amateurs de death brutal.
Leave a reply
You must be logged in to post a comment.