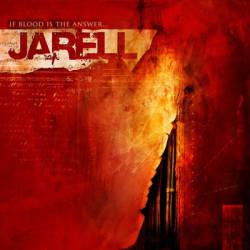 Lors de la sortie de son premier album "Hidden Side" en 2008, Jarell avait montré que la France avait aussi beaucoup de potentiel en matière de metal moderne. Le mélange des styles associé à un enrobage électronique et à une production en béton armé propulsait les Parisiens dans la cour des grands, même s'ils avaient encore peu d'expérience. Arrive maintenant le second opus « If Blood Is the Answer », voyons voir ce qui s'est passé pendant ces cinq ans d'absence.
Certains changements de line-up, de guitaristes et de batteurs notamment, auront légèrement chamboulé la carrière de Jarell qui repart désormais sur de bonnes bases. C'est un nouveau quintette qui bosse sur cet album avec l'aide d'Emmanuel Rousseau (ex-Lyr Drowning) pour le mixage aux White Wasteland Studio et le mastering de Mobo aux Conkrete Studio (Gorod, Eryn Non Dae, Minushuman). Le son est par conséquent très propre et très adapté au style de Jarell.
En parlant de style, celui des Parisiens est plutôt difficile à cerner dans la mesure où on retrouve un mélange d'un peu de tout : du death, du thrash, du metalcore, de l'indus et de l'atmo. On se contentera pour le moment de modern metal, influencé par certains grands noms comme Mnemic, Dagoba, Fear Factory ou encore Soilwork. Ce qui prédomine, en tout cas, ce sont ces nombreux plans électroniques ainsi que les gros riffs et l'alternance de chant crié, de growl et de chant clair dans les refrains. Cela s'entend bien dès le départ avec « You Asked the Wrong Question » aux relents cybernétiques. On découvre des passages syncopés et des passages plus brutaux, bercés par les claviers et les effets. Niveau originalité, on repassera, dans la mesure où c'est une mixture très employée depuis plusieurs années et parfois accompagnée de tonalités djent. Jarell, de ce côté-là, évite de tomber dans ce piège et préfère miser sur l'efficacité plutôt que sur l'expérimental ou la technique.
« Waste, Always Waste » se tourne plus du côté de l'atmosphérique, avec son ensemble porté sur les nappes et les textures. Le chant féroce de Krys associé aux offensives guitaristiques permet d'ajouter un peu de piment. Mais ce n'est rien face à « Hospital » qui agit comme un vrai tube futuriste et déconcertant d'efficacité.
Jarell propose des morceaux simples et déjà entendus comme le très death metal « Successful », « In Her Entrails » aux relents Nothnegaliens, ou le longuet « Birth ». Mais on a aussi des titres plus audacieux comme un « Waltzing Sympathy » symphonico-atmosphérique à certains moments, un « Did You Know » porté par l'électronique et un « I Hate » qui évoque le dernier Zonaria au niveau des atmosphères.
Même si les Frenchies ne révolutionnent rien, sur le plan international, avec « If Blood Is the Answer », ils arrivent tout de même à s'améliorer et à apporter un peu de fraîcheur à une scène française stagnante dans le domaine. Ils nous offrent alors un bon album, punchy et catchy, avec un livret très sympa fonctionnant comme un rassemblement de pages de lettres/cachiers/journaux. Voici donc un groupe à suivre de très prêt.
Leave a reply
You must be logged in to post a comment.