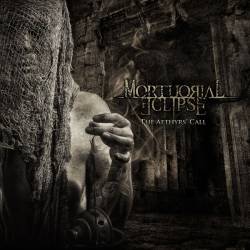 C'est en 2007 que le groupe argentin Mortuorial Eclipse voit le jour, sous l'impulsion de Nefass, Darker Mysteria et Doom avec comme but d'officier dans un black/death metal teinté de compositions symphoniques mis en valeur par des thématiques occultes et des passages dramatiques. Désireux de se faire connaître hors Amérique Latine, le pari était osé mais l'ambition du trio lui permit d'enregistrer une première démo (non sortie à ce jour) en 2009 avant d'enchaîner les concerts début 2010. Les changements de line up auront eu raison de la formation originelle puisque le chanteur/guitariste Nefass est le seul rescapé. Rejoint par le claviériste Baal Herith et par le batteur Kobal, les musiciens se mettent au boulot et sortent leur premier album été 2012, « The Aethyrs Call », réédité chez Ishtar Gate Productions pour la distribution sud-américaine et chez Art Gates Records pour la distribution européenne début 2013.
Mortuorial Eclipse est une sorte de mix entre Dimmu Borgir, Septic Flesh et Vesania, un black death très porté sur les parties symphoniques et les ambiances caractéristiques. En cela, rien de révolutionnaire à détecter mais les Argentins se débrouillent plutôt bien avec un bon mélange du black et du death et une bonne intégration des orchestrations de qualité. Il faut dire que l'Amérique du Sud ne fait pas beaucoup parler d'elle en matière de black symphonique (les groupes de black et de dsbm, par exemple, font toutefois légion). Ici, on se retrouve donc avec un groupe ambitieux, ses inspirations lui permettant d'officier dans un style certes revu et corrigé mais qui ne manque pas de punch. « Advent of a Sinister Omen » ouvre le bal après son introduction « The Summoner's Procession ». On sent la puissance ainsi cette rage qui perdurent jusqu'à la fin de l'opus. Malgré des moments forts en orchestrations et en tranchant, pas de surprise tant les influences se font ressentir, que ce soit dans les riffs ou dans certaines alternances de chant. La différence réside dans le côté obscur et occulte, et ces violons imitant une sorte d'invocation, comme sur le duo « Perpetual Covenant » et « At the Gates of the Marduk's Shrine ».
Pour coller aux productions européennes, le mixage et le mastering a été confié à Arek « Malta » Malczewski (Decapitated, Behemoth, Vesania) aux Sound Division Studios, ce qui confère à « The Aethyrs Call » un son à la polonaise : puissant, carré et particulièrement clean. C'est peut-être l'élément de trop car la musique de Mortuorial Eclipse aurait gagné en profondeur si le son avait été un peu moins clean, afin de mieux faire ressortir les ambiances occultes. Autre défaut notable : la présence quasi inutile des quelques instrumentales (qui se seraient mieux imbriqués dans les titres qui les suivent) comme « The Summoner's Procession », « Perpetual Covenant » ou « Submission ». Les distinguer n'est pas judicieux et on a plus l'impression qu'elles servent de remplissage. Du coup l'album est très court (même pas trente minutes) et on regrette un certain manque de prise de risque : on connaît déjà la musique.
En définitive, « The Aethyrs Call » est un bon album, puissant et tranchant, avec de bonnes ambiances, cependant on nage, tout le long, en terrain connu. Malgré cette envie de se démarquer, Mortuorial Eclipse a du mal à se forger une réelle identité. Il pourrait tirer son épingle du jeu en mettant davantage en valeur les parties occultes et incantatoires (pas si fréquentes que ça dans le black symphonique). Il n'y a plus qu'à espérer avoir un second album détenant ce petit quelque chose qui manque.
Leave a reply
You must be logged in to post a comment.