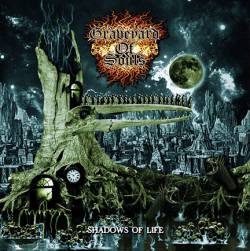 L'Espagne tente petit à petit de se remettre en valeur malgré des sorties métalliques inégales ces derniers temps. Ce mois de juin voit l'arrivée du tout premier album du trio de Burgos, « Shadows of Light ». Très peu d'informations ont été révélées sur ce petit groupe. Il faut dire qu'il s'est formé il y a à peine un an et est donc très jeune. Est-ce qu'il arrivera malgré tout à être à la hauteur ?
Graveyard of Souls officie dans un doom/death qui rappelle Indecadence pour les atmosphères, Helevorn pour la mélancolie et les touches gothiques, et Tiamat pour l'émotion. On se retrouve alors avec un rythme passant du lent au mid tempo, soutenus par des claviers envoûtants et oniriques, des riffs guidant la mélodie et un growl caverneux de bonne facture. Dès le début, l'éponyme « Shadows of Life » nous embarque dans l'univers des Espagnols avec cette puissance atmosphérique indéniable. L'auditeur est embarqué dans une musique où les chœurs ont une place importante, même s'ils ne sonnent pas toujours réalistes. « Dreaming of Some Day to Awake » se situe dans la même lignée, même s'il manque d'accroche dans sa progression.
Les mélodies sont toujours là pour nous embarquer, et ce, tout le long de l'album. Même si « Memory of the Future » sonne plus tranchant et accélère le rythme, il y a toujours ces guitares pour nous rappeler que Graveyard of Souls joue sur les émotions et l'osmose entre guitare et claviers, comme sur un « Follow Me » touchant à son paroxysme. Rien de mielleux cependant, tout se tourne du côté de la mélancolie qui prend une autre dimension avec le morceau « Mad World », reprise de Tear For Fears. Les Espagnols lui donnent un aspect plus grave et solennel, à l'image de la cover de Gary Jules. Le growl est toutefois trop poussif et retouché pour convaincre.
La suite de l'opus manque de moments marquants et même « Dead Earth » n'est pas aussi pessimiste qu'il en a l'air. On a presque l'impression qu'il s'agit du morceau le plus dynamique et le plus joyeux, contrairement à un « There Will Come Soft Rains » plus ambient par moment, avec des passages acoustique. Toutefois, Graveyard of Souls semble utiliser la même recette sur la majeure partie de ses titres : les claviers auraient gagné à être plus diversifié et les mélodies plus travaillées.
Malgré des bonnes choses, « Shadows of Life » reste un opus fragile souffrant de quelques linéarités et d'un manque de personnalité. Il n'en reste pas moins agréable à écouter, certaines mélodies restant en tête pendant un moment, comme celles de l'éponyme par exemple, le titre qui fait sans doute le plus mouche. Graveyard of Souls doit donc faire ses preuves pas à pas et solidifier sa musique.
Leave a reply
You must be logged in to post a comment.