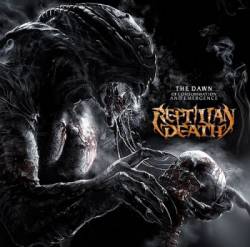 Reptilian Death, c'est tout d'abord le projet annexe de deux membres de Demonic Resurrection, à savoir le chanteur/guitariste Demonstealer et le bassiste Husain, un projet qui a été mis sur pied en 2001. C'est aussi une des formations indiennes phares en matière de Death Metal. La scène n'est pas très dynamique mais compte sur une poignée de groupes pour faire bouger le tout. Reptilian Death a déjà fait ses preuves avec la sortie d'un album, d'un EP et d'un split avec quelques combos désormais silencieux (Warface, Narsil) et avec le nouveau rejeton Exhumation qui a depuis sorti son premier album. 2013 marque l'arrivée du second opus sobrement appelé « The Dawn of Consummation and Emergence ».
Dès le début de l'opus, on ne sait pas vraiment où se dirige Reptilian Death. Même s'il officie dans un death metal à tendances brutales déjà vu (entendu), on ne sait pas vraiment s'il a décidé d'opter pour la brutalité, la technique ou la mélodie. En cela, on sent que l'ensemble de l'album manque de cohérence puisque les musiciens n'ont pas de réelle ligne directrice. Cela se sent sur « Incohate » ou « Stimulate Hike Impel Tear » qui sont brutaux mais qui finissent par manquer de fond avec l'ajout de mélodies impromptues.
A côté de ça, on a quand même des titres pas trop mal fichus comme « Emerge, Hatred, Emerge » ou « Unnervingly Perverted At The Altar » où Demonstealer a l'air bien hargneux sur sa guitare et dans ses vocaux. Mais il est clair que les titres ont vite tendance à s'essouffler sur la longueur, voire à tous se ressembler. Pire encore, on a un peu l'impression de se retrouver avec du Demonic Resurrection en plus brutal, sans les claviers, évidemment. La suite de l'album sonne très banale, ce qui ne permet pas de tenir le coup : on s'ennuie très vite. La faute sans doute à un manque de personnalité.
On ne pourra pas dire, donc, que l'inspiration est au rendez-vous pour la bande à Demonstealer et les influences Nile, Hate Eternal ou Cryptopsy n'apporteront ici aucun bénéfice. La pochette étrange avec ce lézard mi-Alien mi-Predator inapproprié met d'ailleurs sur la voie sans même qu'on ait besoin d'écouter l'opus. Dommage en tout cas car ce n'est pas avec cet album que le combo indien pourra attirer l'oreille du deahtster averti…
Leave a reply
You must be logged in to post a comment.