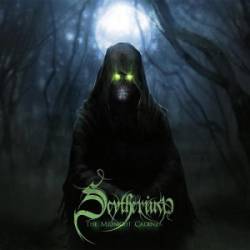 Fondé en 2010, Scytherium est le seul groupe de black symphonique dans la région d'Orlando, aux Etats Unis. La pression est donc à son comble pour un sextet espérant dynamiser le coin et jouer une musique autant inspirée par les précurseurs (Emperor, Arcturus) que par des combos plus expérimentaux (Sigh) ou théâtraux (Carach Angren). Avec le second album, « The Midnight Candenza », on sent que les Américains tentent de mélanger la patte de chacune de leurs influences avec leur folie personnelle. On se retrouve donc avec un album rapide, parfois atmosphérique, souvent rentre dedans, et constamment empreint d'une aura fantomatique.
Les bases se posent avec « Cadenza of Decay », introduction classique dans le genre mais plutôt inquiétante avec ces notes de piano mélancoliques. On pourrait presque sentir le souffle glacial d'un fantôme derrière notre dos. Mais cela prend fin avec « The Inversion», un titre très dynamique qui mélange énormément de choses : la mélodie entêtante des guitares, les riffs, les claviers barrés, le punch de la batterie, le chant écorché et cette rythmique épique. La production est meilleure que sur l'opus précédent mais pas totalement au point que nous avons à de nombreux moments une impression de cacophonie. Les instruments se mélangent maladroitement tel un gros bazar.
On pense alors à une erreur de démarrage puisque cela s'améliore avec « Return to Forsaken Graves » ou « Depravity of Human Essence » qui nous présentent les choses de façon progressive et avec plus de cohérence et de délicatesse. Les mélodies sont plus directes mais aussi plus élégantes, la batterie plus écrasante et les riffs plus denses et plus accrocheurs. Ce n'est pas non plus excellent, le mixage étant tout de même pour quelque chose, mais on sent un potentiel et une façon de nous narrer une histoire macabre, en particulier sur « Night of the Sleepless Echo », qui porte très bien son nom, puisqu'il est bien nocturne, bien sombre et plutôt efficace dans son genre.
« The Midnight Cadenza » est un album tout à fait correct qui ne manque pas de punch ni d'inspirations, cependant certains moments sont très bons (comme sur « The Poltergeist Catastrophe », qui met en haleine dès son intro et pendant les refrains à coups de nappes et de gros riffs) et d'autres moins attractifs et plus classiques. Le côté barré et très orchestré aurait été mieux mis en valeur avec un mixage plus propre et plus adapté puisque l'écoute n'est pas totalement fluide et que nos oreilles doivent s'adapter à cet amoncellement d'éléments pas toujours faciles à distinguer. De plus, le growl semble plus adéquat pour ce genre de black symphonique, le chant black étant trop éraillé et agaçant. Scytherium doit donc songer à améliorer son son et à ne pas trop superposer de choses en même temps, au risque de perdre l'auditeur en cours de route…
Leave a reply
You must be logged in to post a comment.