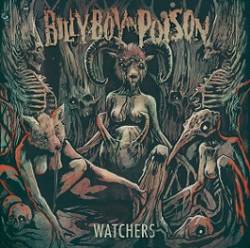 Les Danois de Billy Boy In Poison ont un CV plutôt bien rempli. Ils ont participé aux deux plus gros festivals danois, ont sorti trois EP plutôt bien reçus, ont fait de nombreux concerts toujours bien remplis et ont ouvert pour des groupes tels que Hatesphere, Aborted ou Trigger The Bloodshed. A travers ces années d'existence (depuis 2005), Billy Boy In Poison s'est avéré être un groupe plutôt respecté sur la scène danoise underground. Preuve en est : le quintet franchit le pas et sort son premier full length, « Watchers ».
Le long de ces neuf nouveaux morceaux, la bande perfectionne son alliage de death metal et de metalcore sans oublier le côté moderne qui fait son identité. Des touches jazzy (« Decadent God ») et techniques (« A Shadow of My Past ») s'incorporent au mélange afin d'ajouter un peu de subtilité aux compositions. Elles sont les biens venues puisqu'elles permettent d'aérer le tout et d'apporter un peu de fraicheur à la lourdeur du death metal et au côté surexcité du –core.
La production de Jacob Hansen (Volbeat, Mercenary, Aborted) permet d'apporter la puissance nécessaire aux morceaux qui arrivent à se doter d'une texture toute particulière. Cela renforce la carapace de Billy Boy In Poison et sa mixture particulière et donne beaucoup d'effets aux moments atmosphériques sombres et torturés qui s'introduisent délicatement dans les compositions. Les passages les plus lourds sont aussi renforcés et donnent plus d'impact comme sur l'efficace « Capture It All » avec ses cris décharnés et ses growls caverneux.
Même si cet opus est objectivement bon, les Danois n'inventent pas l'eau chaude avec ce « Watchers » mais ont le mérite de livrer un premier méfait cohérent et fluide, qui s'écoute sans trop de difficultés. Ni trop –core, ni trop death metal, le mélange est adapté et permet à l'auditeur de nager dans différentes eaux sans problèmes. Un bon début, donc, pour ce quintet énervé.
Leave a reply
You must be logged in to post a comment.