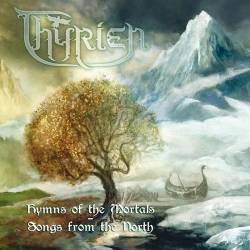 Vous voulez du folk ? Vous voulez du melo death ? Vous voulez du black ? Thyrien est là pour ravir vos oreilles. Les Finlandais sont de retour cette année avec leur premier full length « Hymns of the Mortals » qui aura mis du temps à naître puisque les titres ont commencé à être composés aux alentours de 2008, soit un an après le debut EP « The Frozen North ». Thyrien fait un grand pas puisqu'il signe chez le label Massacre Records, fait mixer son opus par Olli Mattila and Jarno Hänninen aux D-Studios et s'entoure d'un claviériste guest qui n'est autre qu'Emmi Silvennoinen d'Ensiferum.
Le style du groupe se remarque dès le début avec le duo "Far Beyond Midgard" et "Vengeance Through My Soul", intro instrumentale symphonique contemplative et morceau d'ouverture efficace qui intègre habilement un death/black mélodique dans la lignée de Norther mais avec cette ambiance hivernale distillée par les claviers. Les riffs melo death sont rageurs tandis que le chant black nous emmène dans la mythologie nordique. C'est classique et le groupe n'invente rien, mais l'ensemble a le mérite d'être très bien ficelé, sans temps morts, de quoi nous empêcher de nous ennuyer.
La suite est bien plus folk avec des mélodies à la guitare bien caractéristiques. C'est festif, véloce et entêtant comme sur "Eternal Journey" avec ses choeurs et ses cris guerriers qui ponctuent le morceau. "The Frozen North" est une version totalement remasterisée du morceau phare du premier EP et montre un Thyrien plus agressif et sombre malgré des moments plus calmes guidés par la guitare contrairement à un "Forest Is My Throne" plus doux, plus solennel, véritable hommage aux forêts protectrices, avec ce couple claviers/guitares.
Il est toutefois dommage que les passages les plus folks ne soient pas totalement intégrées dans les morceaux. Comme dit plus haut, ce sont les guitares qui s'occupent de toutes les mélodies et les nappes agissent en soutient pour renforcer l'atmosphère. Pourtant, on découvre d'autres instruments (imités par les claviers) comme le violon, la flute et l'accordéon pour ne citer qu'eux qui apparaîssent principalement en début de titre comme sur "Deathwish" ou "When the Horizon Burns" ou en renfort alors qu'on se serait attendu à les entendre régulièrement, à divers endroits. Thyrien mise plus sur l'aspect melo death de sa rythmique, bien que "Tinasormus", dynamique et bien folklorique, agisse presque comme un titre de Finntroll.
« Hyms of the Mortal » est un album relativement efficace qui nous permet de découvrir un groupe mélangeant trois styles de façon cohérente, même si ce n'est pas spécialement original. Thyrien a enfin réussi à mettre sur pied ses idées en dépit de nombreux coups du sort comme le manque de moyen et de temps ou bien les changements de line-up, déstabilisant le processus de composition. Peut-être que cela valait le coup d'attendre sept ans…
Leave a reply
You must be logged in to post a comment.