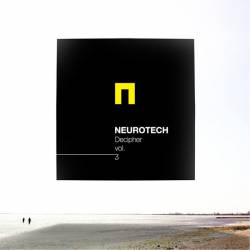 Dernier volume d'une collection complètement à part et prouvant le talent de compositions de Wulf, cette troisième partie est un moyen de présenter une fusion des trois styles que le musicien s'est amusé à explorer : le cyber metal, l'atmosphérique et le symphonique. Sorti en digital et en compagnie de ses deux autres acolytes dans un digipack très soigné, cet ultime morceau montre pour de bon que Neurotech est un des meilleurs artistes de cyber metal actuels.
Wulf a affiné ses compétences en mixage et mastering puisque le son est plus propre, plus fluide, plus personnel et surtout très synthétique. Une identité qui colle parfaitement aux morceaux que contient ce volume 3 très tourné vers une alternance entre parties brutales et parties plus atmosphériques. Si le prélude et « Closure » ouvrent l'EP de manière douce et planante, « No Turning Back » accélère le rythme et met en avant des guitares tranchantes et la voix déshumanisée de Wulf. Ce dernier module davantage son chant, souvent criard, parfois clair et synthétique, ce qui offre un décalage intéressant et un côté cybernétique qui n'est pas à négliger. « Triumph » montre bien cette dualité avec une puissance étonnante.
Le piano est toujours de la partie ainsi que les éléments symphoniques comme sur « The Difference » qui montre que le one-man-band a une affection toute particulière pour les éléments orchestraux. L'abus de chœurs, cependant, peut vite lasser ainsi que le côté monotone des guitares. Mais les mélodies sont toujours bien présentes, une facette que Neurotech n'est pas prêt d'abandonner. Sans oublier le long est ambiant « Decipher », totalement dénué de guitares, indiquant que Wulf est bien un musicien polyvalent, sachant pratiquement tout jouer et maniant ses claviers et outils de production à la perfection.
Un dernier volume très intéressant, sorte de mise en bouche avant une orientation multicolore, comme nous l'a prouvée la sortie de « The Elysian Symphony » en décembre 2013 avec des sons et des ambiances en tout genre. Même si la collection des Decipher ne propose pas toujours des morceaux originaux et indispensables, certains valent tout de même le détour et font, malgré tout, intrinsèquement partie de l'évolution du maestro.
Leave a reply
You must be logged in to post a comment.