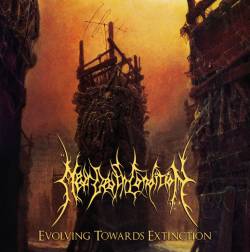 Il y a trois ans, déjà, Near Death Condition avait fait sensation avec la sortie de son second full length « Disembodied – In Spiritual Spheres » qui mêlait habilement la technique et la puissance d'exécution. Les musiciens prouvaient dans le même temps que la Suisse avait du potentiel en termes de brutal death car, c'est en fait, ce n'est pas un pays très représentatif du style. Ceci dit, il ne faut pas s'arrêter là puisque Near Death Condition réitère l'expérience cette année avec un « Evolving Towards Extinction » toujours signé chez Unique Leader (Arkaik, Deeds Of Flesh, Beheaded…) et mixé aux fameux Hertz Studio (Behemoth, Decapitated, Vader…).
Le groupe nous montre qu'il est de nouveau très en forme avec le morceau d'ouverture « Works of Wisdom » qui démarre en trombe, blasts et gros riffs en tête. C'est rapide, brute de décoffrage et aussi technique, il est clair que Near Death Condition n'a pas perdu la main et espère bien nous refaire vibrer avec son brutal death percutant. Toutefois, comme il nous l'a déjà prouvé, il sait aussi ralentir son tempo et imposer des passages d'une lourdeur impeccable, sans oublier les soli astraux qui vont bien avec. Cela apporte de la mélodie et nous permet de souffler entre deux déflagrations.
« Pandemic of Ignorance » joue sur l'ambigüité avec un début pesant et plutôt « lent » marqué par l'alternance de growls et de chants plus criards, et une suite beaucoup plus brutale et technique, avec un marteleur de fûts complètement cinglé et un couple de guitaristes endiablés qui envoient la sauce et nous font vivre un moment de rêve, pas très très loin d'Origin…
Les Suisses jouent avec les rythmes, contrôlent leur technique, alourdissent et harmonisent à leur guise comme en témoignent les excellents « The Anatomy of Disgust » et « Vertigo ». Ils diversifient aussi leurs compos avec des morceaux marqués par de discrètes nappes de claviers comme « Anagamin » ou « Nostalgia for Chaos » qui instaurent une atmosphère chaotique. « Between the Dying and the Dead » et « Intelligent Design », eux, mettent en avant quelques chœurs histoire de rajouter un léger côté « épique » proche de Fleshgod Apocalypse.
Near Death Condition assure encore une fois avec ce terrible « Evolving Towards Extinction » qui montre de nouveau la puissance de feu des helvètes, leur capacité à nous maintenir en haleine jusqu'au bout et leur technicité irréprochable. Les soli s'envolent et nous vendent du rêve. Rien à faire, on est scotchés. Le trio fait un nouveau pas de plus en avant, malgré des influences évidentes (Origin, Hate Eternal, Morbid Angel…). Décidément, 2014 nous gâte.
Leave a reply
You must be logged in to post a comment.