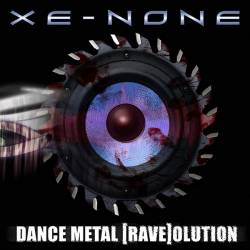 Voici le premier album de ce groupe Russe…

J'ai découvert Xe-none par hasard sur LastFm. Je recherchais du cyber metal et ça ma donné ça.
Ce n'est en réalité pas du cyber metal du tout. Le cyber metal est un style de death avec des sonorités indus. Or là, c'est plutôt du métal bien (ou mal) mélangé avec de la techno… la bonne vieille techno des années 1990…
Bon, pourquoi pas essayer mais ça ne passe pas… j'ai même trouvé ça drôle en écoutant l'album Dance Metal [Rave]olution. Pour moi, la techno et la métal sont difficiles à mélanger, certes Xe-none le fait, mais le problème est que les guitares sont en parties dissimulées par la musique techno qui dominent la majeure partie des titres. On se croirait totalement dans une Rave Party.
Les titres s'enchaînent donc et se ressemblent. La voix du chanteur, entre voix claire et saturée, reste potable. La batterie est tonitruante et insupportable, comme celle que l'on entend dans la techno, ce Poum Poum répété inlassablement. On n'entend pratiquement pas la basse, les guitares sont trop légères, les riffs trop peu nombreux et la partie comique et l'autre voix, une voix féminine, très synthétique pour ma part, ressemblant à une voix de bébé, surtout sur Slave on Line… et vraiment insupportable, ce qui ne ma pas empêché de rire à l'écoute de ce titre. Elle veut la jouer lyrique mais déjà, faut un minimum savoir chanter…
Drôle de surprise pour Xe-None ! L'album plaira sans doute aux amateurs de metal et de techno, mais si vous n'aimez pas les samples électro… évitez à tout prix. Surtout que pour du métal, et bien ça sonne bizarrement.
J'ai pourtant eu beau tenter de réécouter, en pensant que ce serait une erreur de jugement, mais vraiment, cet album est tellement comique dans sa médiocrité qu'il m'est impossible d'en dire du bien. Et d'en dire plus.
Leave a reply
You must be logged in to post a comment.