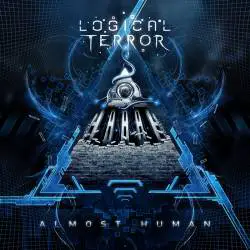 Alors que le Cyber Metal semble prendre de l'ampleur, de jeunes groupes éclosent petit à petit afin de nous montrer leur vision des choses, de l'humanité, du futur…

Logical Terror par exemple, formé seulement en 2009, n'hésite pas une seule fois à atteindre les codes du sous-genre sus-cité en sortant deux ans plus tard un premier opus nommé « Almost Human ». Il s'agit évidemment d'un concept album, dans lequel l'homme immatériel et quasi non-existent, mais pas privé de ces principes moraux pour autant, évolue dans un monde à cheval entre réalité et virtualité.
Mélange de Death mélodique à la Soilwork ou Scar Symmetry, d'Indus cybernétique à la Sybreed (les guitares ont d'ailleurs le même son) et de relents core proches de Mnemic, Logical Terror ne fait pas dans l'originalité de ce côté-là, mais profite de ces influences pour nous livrer un contenu pour le moins explosif. Les riffs sont assez efficaces, leur agressivité variant selon les morceaux, le rythme ne se relâche jamais et reste dynamique du début jusqu'à la fin, alors que les deux chanteurs nous font une alternance de vocaux à la manière des groupes pré-cités : un chant typé Death mélo couplé à un chant clair plus ou moins core, et surtout, plus ou moins bien intégré aux compositions. En effet, même si l'alternance est plutôt bonne, un titre tel que « Monad 61 » nous gratifie d'un chant clair assez agaçant, alors que celui de « Unfilled » ou de « Facing Eternity » peine à convaincre.

Toutefois, ces mélanges de vocaux ne sont que l'expression des interrogations de l'homme que nous suivons, ses conflits internes, ainsi que son combat contre la nature et la vie artificielle qui semblent se retourner contre lui…son envie de créer et de se hisser au sommet de la hiérarchie qui est celle de la vie, afin de détrôner la nature, n'aura pas été en son avantage…et cette pyramide bleue prise dans un arrière plan virtuel en guise de cover représente bien cette hiérarchie.
Afin de profiter de ce concept si optimiste, Logical Terror intègre bien évidemment tout un panel d'éléments indus et cybernétiques assez imposants, omniprésents et plutôt bien relevés. Tous les morceaux commencent par une intro électronique, les effets et les sonorités futuristes aux claviers se retrouvent bien évidemment à de nombreuses reprises, couplés à énormément de samples, mais aussi d'éléments sombres, mécaniques et robotiques à la manière de « Monad 61 », proche de Mechina, ou de « Degenerate Regenerate » : cette rythmique, ces riffs, cette saturation, cette voix artificielle…

De même pour « Self Extinction », qui va encore plus loin. Agissant comme une parade robotique, et fonctionnant comme des chansons de Daft Punk, les sons industriels fusent, ainsi que les chants robotiques, trafiqués, synthétiques…
Outre cette partie ultra cybernétique, nous retrouvons aussi des morceaux plus soft à la manière de « Collapse », un des plus sombres, des plus thrashy dans les riffings, des plus techniques, et des plus représentatifs de l'album et du concept en général. Il nous octroie d'ailleurs d'un solo moderne assez réussi et maîtrisé, assez scarsymmetriens…
Finalement, ce qu'on regrettera sans doute le plus, c'est la durée relativement courte de ce « Almost Human », qui peine à franchir les trente minutes. Les huit titres sont donc de durée moyenne mais permettent tout de même de se plonger dans l'univers de Logical Terror malgré les défauts d'originalité et de crédibilité du chant clair. Doté d'une production en béton, l'album pourra certainement plaire aux amateurs de Cyber mais aussi de Metalcore.

2 Responses to ' Logical Terror : Almost Human '



I actually admire the precious information people offer in the articles. I'll be competent to search for your blog and show the kids look into way up in this article typically. Now i'm relatively guaranteed they're going to master a wide range of fresh items right here in comparison with others!




My boyfriend bookmarked this link and i also came here accidentally. Thanks considerably for this particular post! A real good read. I lack time today to write down lots of my very own opinions, however, plainly return tomorrow evening, For certain i will explain why I have to admit i dig using this kind of article.
Leave a reply