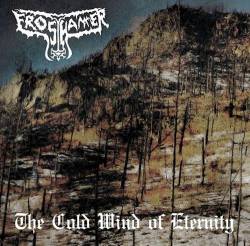 Si l'écoute d'un split Cd tel que « Old Times Glance Upon Us » pouvait nous refroidir tant par le côté raw, mal produit et sauvage, une démo telle que « The Cold Wind of Eternity » peut en étonner plus d'un. Frost Hammer n'aura pas chômé en 2011, passant littéralement du coq à l'âne. Cet enregistrement voit la venue d'un membre supplémentaire et d'un clavier dans l'ensemble des compositions. Fini donc le son crade et cadavérique, les canadiens, toujours signé chez Salute Records, améliore leur jeu et nous montre une autre facette de leur travail.
Cette fois-ci, il s'agit d'un black symphonique que nous découvrons à travers ce « The Cold Wind of Eternity ». Mais attention, ne vous attendez pas à quelque chose de grandiloquent ou à un melting pot de ce que nous connaissons déjà. Rien de semblable aux scènes norvégiennes ou américaines ne se dégage de ces six morceaux. Frost Hammer nous offre quelque chose de très personnel et de très particulier. Maintenant leurs ambiances froides et très natures, le quatuor rajoute une facette plus impériale et plus mystérieuse grâce aux claviers, même si l'ensemble reste tout aussi raw et morbide.
Malgré tout, on change littéralement d'empreinte vocale, le chant étant plus modulé, plus varié, allant du cri black au growl en passant par une voix claire (« Shining Light » entre autre). Ce type de voix peut totalement monopoliser un titre et le rendre plus humain, tandis que la guitare et la batterie nous assènent de parties tranchantes et que le clavier, énormément mis en valeur, nous gratifient d'orchestrations de qualité.
Et c'est ce qui est étonnant dans cet album : non seulement la présence des claviers aux accents symphoniques, mais surtout leur très bonne production, ce qui détonne littéralement avec le son des guitares. Ces dernières sont presque inexistantes tant elles sont rangées au second plan et mal produites, offrant un terrible contraste, comme si rien tout avait été mixé d'une différente manière.
Finalement, on reste pris par la force de ces orchestrations. Bien que peu techniques, elles nous embarquent dans un monde atypique, avec ces chants étranges et ces guitares mélodiques. Rien n'est trop pompeux, tout paraît simple au final, mais un certain aspect progressif nous prouve le contraire. Les titres, longs et riches, ne se ressemblent pas. Leur structures semblent s'alambiquer avec le temps, surtout arrivé à la fin de la démo, lorsqu'un « Where the Northern Wind Doth Blow… » atteint les dix minutes : parties calmes, parties agressives, parties atmosphériques et parties symphoniques composent ce morceau à la progression impeccable. Le rythme n'est pas des plus rapides mais il nous permet de rester concentré du début à la fin et de nous imprégner de cette ambiance sombre et froide, digne de celle d'une forêt dense et humide en plein hiver.
Cette fois-ci, Frost Hammer tire son épingle du jeu avec une musique à double tranchant, entre parties black metal crades et parties symphoniques de qualité. Ce « The Cold Wind of Eternity » pourra sans aucun doute attirer plusieurs types d'auditeurs, tant dans le côté simpliste et raw (guitares, batterie) que dans le côté recherché et soigné (voix, claviers).
Leave a reply
You must be logged in to post a comment.