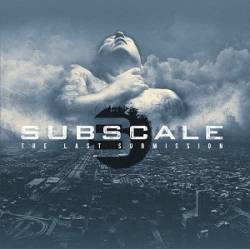 Il y a à peine six mois, on avait découvert Subscale avec le premier EP « Fictional Constructs ». Le projet du claviériste et sampler de Substance Black montrait qu'il pouvait bidouiller ses machines autrement dans un groupe plus tourné vers le groove et le djent. Même si le premier jet était d'assez bonne facture, il n'était pas assez original et prenant pour accrocher l'auditeur. Avec le nouveau rejeton « The Last Submission » (encore un « sub » !), Subscale remonte la pente et prouve qu'il a beaucoup de potentiel.
On retrouve les morceaux digitaux, dynamiques et groovy de l'EP, à savoir « Fictional Contructs », « Antecedent » et « Realization », ici remasterisés. Ils envoient beaucoup plus le pâté et jouissent de bons riffs et d'une bonne dose d'effets électroniques bien intégrés. Les Croates évitent la surenchère et les disséminent avec parcimonie, afin de rendre l'ensemble homogène. La suite de l'opus, et donc les nouveaux morceaux, sont à l'image de ces trois frappes digitales, avec ce côté djent, cette alternance de parties rapides et de parties mid tempos, et l'alternance de vocaux, criés dans les couplets, clairs dans les refrains. La recette est loin d'être nouvelle mais Subscale se débrouille plutôt bien de ce côté-là, ponctuant certains moments de growls comme sur « Pull the Threads (Extraction) ».
Il est clair que Subscale n'invente rien sur son album, car on retrouve bel et bien la djent attitude des groupes les plus connus dans le domaine avec des bidouilles cybernétiques très classiques. Malgré tout, l'efficacité est telle qu'on en oublie les influences et on se laisse porter par la musique du quatuor. Evidemment, on remarque quelques linéarités et parties plates sur certains titres (« Realization » ou « The Last Submission ») mais des titres plus variés permettent de penser à autre chose, comme le terrible « Outbreach », proche de Cruentus, dans lequel tous les instruments se démarquent avec brio. Sans oublier la petite instru cybernétique « The Verdict », ambiante et post apocalyptique.
Là où Subscale nous laissait sur notre faim sur l'EP, avec une impression de retenu, il nous bouscule sur l'album en mettant les petits plats dans les grands et en délivrant sa force et son potentiel. « The Last Submission » est un premier full length de qualité, dynamique et féroce, signé chez Geenger Records et enregistré de nouveau aux Soundlabs et aux Subscalar Studios (eh oui ces Croates voient la vie en S).