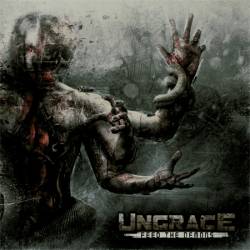 Le moins que l'on puisse dire, c'est que ces Ukrainiens ne chôment pas, entre la gestion d'Ungrace mais aussi des autres projets comme Blast-X ou Hell :On. Les points communs de ces formations résident non seulement dans la présence de certains membres mais aussi au niveau du style, à savoir le death metal. Toutefois, Ungrace s'est dirigé vers un death metal teinté de core et d'éléments industriels pour, on peut le dire, une sorte de deathcore industriel. Le quatuor laisse une place importante aux éléments purement death metal comme les riffs, les rythmiques mais aussi les growls, les influences allant de Nile à Behemoth pour ne citer qu'eux. Pour ce qui du core, les vocaux plus hurlés nous mettent sur la voie ainsi que certains breakdowns. Enfin, pour ce qui est l'indus, on est plus proche de Fear Factory qu'autre chose.
Sur leur nouveau méfait, « Feed the Demons », paru trois ans après leur premier album « Hostile Revival », Ungrace propose treize morceaux bien huilés et tranchants. Signé chez le leader ukrainien Metal Scrap, ils peaufinent leur production et cela se ressent sur le titre introducteur, « …Will Kill You », au son dense et aux riffs écrasants. Une sorte de deathcore moderne avec son panel de riffs calculés et maîtrisés. On sent que le quatuor a pris de la bouteille depuis l'inégal « Hostile Revival », idem pour un « Horizons Behind » dans la même veine, qui alterne les types de chant. Sans oublier un « S.L.F » très ravageur, parfois très technique niveau grattes et batterie.
On sent aussi que le groupe ne sait pas trop où se situer, entre des titres à la Nile comme « Scarifice » ou « Bleeding Thoughts », bourrins et aux ambiances égyptiennes, des titres plus indus comme « Glamour & Pathos » ou « No[w] More Hate », pas loin du cyber, ou des titres plus proches de Strapping Young Lad/Devin Townsend comme « All My Demons » ou « Sick Passion » (notamment les cris et certains riffs). Malgré toutes ces influences, l'ensemble montre une base bien deathcore et on peut dire que malgré les diverses escapades vers des styles différents, il s'agit du point de repère.
« Feed the Demons » reste un album bien ficelé et agressif à souhait mais Ungrace doit maintenant trouver sa vraie identité et s'extirper de ses influences, encore bien trop présentes. Voici tout de même une galette encourageante pour un petit groupe des pays de l'Est. Une chose est sûre : cette partie du globe à un sacré potentiel !