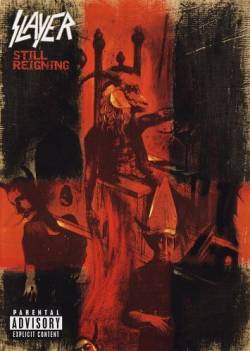 Retour de Dave Lombardo oblige, Slayer a souhaité rendre hommage à  son passé via un dvd qui réjouira, assurément, tous ceux qui vénèrent leur extraordinaire "Reign in Blood". En effet, le groupe exécute ici, dans son intégralité et suivant le track-listing originel, cet album ô combien mythique et fondateur.

Que pourrait-on ajouter? Pas grand-chose. L'équation "Slayer sur scène + Reign in Blood" se suffit à  elle-même; elle annonce furie, décibels, densité, intensité, et j'en passe. Nous ne pouvions pas être déçus par un tel produit, et tout est conforme à  nos attentes. Les guitares hurlent à  tout va, Araya éructe comme un possédé, et l'immense Dave Lombardo martèle ses fûts comme si sa vie en dépendait. Le public se déchaîne dans cette grande communion infernale, qui nous permet de réaliser à  quel point les morceaux interprétés ce soir-là  sont intemporels, tout de rage et de violence malsaine. Du riff d'ouverture d'"Angel of Death" au final apocalyptique de "Raining Blood", avec pluie de sang en prime, le show n'est que bonheur pour le petit métalleux, béat d'admiration devant une telle exécution sans faille.

Notons aussi que le dvd est complété par six morceaux qui, s'ils ne proviennent pas de "Reign in Blood", n'ont rien à  envier au reste de la set-list. On soulignera notamment un hallucinant "Mandatory Suicide" et l'intro de "South of Heaven", à  vous glacer le sang…
Malgré quelques défauts mineurs, dont un montage non conforme à  l'ordre d'exécution des morceaux (le groupe n'a en fait pas joué l'album suivant son track-listing, mais a monté le dvd selon celui-ci) et l'absence de "Dead Skin Mask" parmi les morceaux bonus, nous tenons ici un dvd redoutable. Voici donc la preuve éclatante de l'excellent état de santé scénique de Slayer… Pour ce qui est d'un album studio, on attend toujours.

Recently: