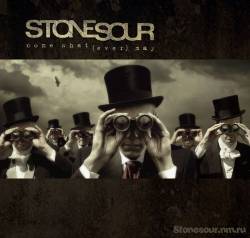 Décidément, Corey Taylor ne supporte pas l'inactivité: Slipknot à  peine mis en stand-by, le voilà  qui remet Stone Sour sur les rails. Un Stone Sour légèrement remanié, puisque c'est ici Roy Mayorga (on le présente encore?) qui s'occupe de la batterie, en lieu et place du démissionaire Joel Ekman.

Alors, quoi de neuf sous le soleil pour ce second album?
Ce qui frappe tout d'abord, c'est que les ambitions ne sont plus du tout les mêmes. Le premier essai du groupe était un disque de heavy-rock / métal de qualité, mais sans visée commerciale particulière, dont le seul but était que le chanteur du Knot se fasse plaisir. "Come What(ever) May", par contre, vise le carton planétaire et se trouve, à  cet effet, gorgé de singles potentiels ("Hell and consequences", "Made of Scars",… En fait une grosse moitié du disque!), réhaussés par un gros son nettement plus clean qu'auparavant.

La base musicale est la même: un métal classique, des mélodies instantanément mémorisables, juste ce qu'il faut de violence pour que le métalleux de base soit défoulé ("Reborn" et ses gueulantes), et surtout la voix de monsieur Taylor, toujours impeccable quel que soit le registre abordé. Bref, c'est frais, ça s'écoute tout seul, et ça reste dans le cerveau juste assez pour passer une bonne journée. De plus, ce disque pose clairement la ligne de démarcation Slipknot / Stone Sour, parfois trop floue par le passé (voir "Get Inside" sur l'album précédent).
Serions-nous en présence du disque de heavy-rock US parfait? Malheureusement, et même si je prends un plaisir certain à  l'écouter, "Come What(ever) May" n'est pas exempt de défauts. En fait, le problème est que lorsqu'on a le carton en ligne de mire, on formate trop ses morceaux pour les radios de campus. A titre d'exemple, le mou du genou "Your God" ou l'insipide ballade "Through Glass" horripileront même les moins réfractaires aux mélodies "radio-friendly".Quant à  "Sillyworld", elle aurait pu avoir sa place sur un album d'Evanescence… Heureusement, l'album se reprend sur la fin avec le très rythmé "Socio" et l'énergique "1st Person", et s'achève correctement, avec "Zzyxz Road", de loin la meilleure des trois ballades proposées ici.
Faut-il pour autant bouder son plaisir et passer à  côté de "Come What(ever) May"? Ce serait fort dommage, car on y trouve quand même de très bons morceaux, portés par d'excellentes mélodies, et que, finalement, cela fait du bien de s'envoyer parfois un album facile, à  l'accès immédiat, sans prise de tête, entre deux galettes de death technique ou de doom torturé.
Recently: