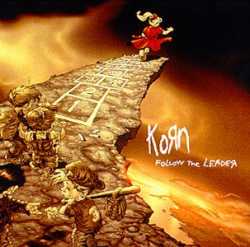 A peine arrivé dans les bacs, "Follow the Leader" fait un carton; le troisième album de Korn regroupe dans son sillage une énorme partie d'une jeunesse en manque de sensations fortes qui élèvent les cinq musiciens au rang d'idoles. Les critiques encensent ce qui semble être le disque de la maturité pour l'un des groupes les plus en vogues de cette fin des années 90. Korn a, aux yeux de tous, enfin digéré ses influences (Faith No More, le hip-hop, le death,…) et en a fait la brillante synthèse sur ce disque emblématique de la scène néo-métal.
Mais presque dix ans après sa sortie, le constat est bien plus mitigé. Oui, le son de Korn reste unique et le groupe est reconnaissable dès les premières mesures. Oui, les tubes sont là , l'énorme "Freak on a Leash" en tête. Oui, l'ensemble s'écoute d'une traite en tapant du pied et dodelinant de la tête. Mais non, cet album n'est pas le meilleur du groupe, loin de là ; et il est sans doute celui qui supporte le plus mal la réécoute et le passage du temps.

Loin d'avoir digéré ses influences, Korn en fait ici un patchwork, un collage pas toujours abouti. A ce titre, les morceaux les plus axés hip-hop sont le gros point faible de "Follow the Leader". Si Ice Cube ne s'en sort pas trop mal sur "Children Of The Korn", Fred Durst est par contre vite agaçant sur "All in the Family"; quant à  l'obscur rappeur (Tree de Pharicide, si mes souvenirs sont exacts) qui s'invite sur "Cameltosis", il massacre tout simplement un morceau qui n'avait vraiment pas besoin de ça. Autre déception, le tube "Got the Life", qui avait pourtant obtenu un succès considérable à  l'époque, apparaît aujourd'hui comme un titre ultra-calibré, radiophonique à  souhait mais très mollasson, sans flamme ni génie.

En fait, les plus belles pépites de l'album sont là  où on ne les attend pas: les très violents "Dead Bodies Everyxhere" et "Pretty", le splendide "Justin", ou encore le poignant "My Gift To You", qui clôt le disque en beauté. Ce sont ces morceaux, méconnus ou sous-estimés, qui confèrent à  "Follow the Leader" le souffle dont il manque parfois.
Sans être un mauvais album, "Follow the Leader" rate un peu le coche et passe mal l'épreuve du temps. Il s'agit avant tout du disque d'un groupe roublard, décidé à  profiter de l'explosion néo-métal qu'il a lui-même contribué à  provoquer. En perdant cette naïveté touchante, très adolescente, qui faisait sa force, Korn a beaucoup perdu ici de sa capacité à  nous toucher.
Recently: