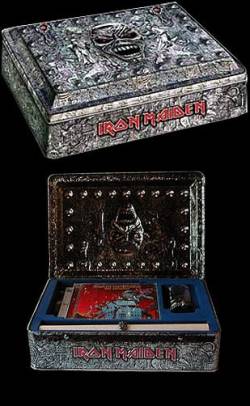 2002 est une année bénie pour les fans de Maiden. En effet, aprés un double Live à Rio (l'excellent 'Rock in Rio') enregistré au festival Rock in Rio en janvier 2001, sorti le 27 mars, et un best-of qui oublie les titres des deux premiers albums (un sacrilège!), Rod Smallwood a décidé de sortir un superbe coffret. Le contenu est spectaculaire, toute une rétrospective de quelques-uns des plus importants concerts de Maiden et des faces b de singles, et, ce, en 6 cds.

Le premier, 'BBC Archives', est un double album composé de : la première session d'enregistrement d'Iron Maiden, session qui sera à l'origine du 'Soundhouse Tapes', le premier EP du combo, les deux concerts de Reading (23 août 1980 et 28 août 1982) et le concert de Donington du 20 août 1988 dans le cadre du Seventh Son Tour.

Le deuxième double cd est la réunion de tous les singles du groupe depuis "Burning Ambition" jusqu'à "Wasted Years'99 (Live)", en passant par "The Sheriff Of Huddersfield" (un titre parodique dont le personnage central caricaturé est le manager du groupe) et "Roll Over Vic Vella" (hommage du groupe à leur roadie Vic Vella, sur la musique du "Roll Over Beethoven" de Chuck Berry). Autant dire, les coulisses des sessions studios.

Le troisième double cd est un INDISPENSABLE à posséder ABSOLUMENT dans sa discothèque!!! En effet, il s'agit du célébre concert du groupe à l'Hammersmith Odeon de Londres durant la tournée The Beast on the Road de 1982. Un concert événement, l'un des tous premiers enregistrement Live de Bruce Dickinson aprés son INTégration au sein du groupe, dont la vidéo apparaît sur le DVD 'The History Of Iron Maiden, part 1 : The Early Years', sorti en novembre dernier. Le tracklisting est impressionant, jugez-en vous même :

cd 1 =>"Murders in the Rue Morgue", "Wrathchild", "Run to the Hills", "Children of the Damned", "The Number of the Beast", "Another Life", "Killers", "22 Acacia Avenue", "Total Eclipse".

cd 2 => "Transylvania", "The Prisoner", "Hallowed Be Thy Name", "Prowler", "Iron Maiden", "Sanctuary", "Drifter", "Running Free" et "Prowler". Une setlist que Iron Maiden devrait en partie reprendre lors du concert du Parc des Princes le 25 juin prochain.

Le coffret comprend, en bonus, un arbre généalogique du groupe (le même que l'on retrouve dans le double Live 'A Real Live Dead One'), présenté façon parchemin et un verre collector (dont deux versions sont disponibles), fabriqué par la firme Alchemy Gothic.

En résumé, un bien bel objet de collection que le groupe nous a offert.
Recently: