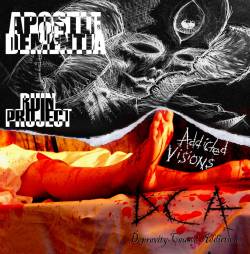 Moi qui ne suis pas vraiment pas habitué à  ce genre de metal, je me suis bien surpris à  écouter d'une traite ce split cd sur lequel s'expriment de façon brutale et peu catholique deux des groupes les plus efficaces de la scène extrême française. Bien que les titres soient directes et assez basés scatologie, la musique elle, bien que déstabilisante, est, d'une certaine manière, séduisante. Loin de moi de tomber dans le "mauvais goût" en matière musicale, mais ces groupes, Apostle Of Dementia et Depravity Caused Addiction, connaissent leur technique sur le bout des doigts et nous font la démonstration de leur talent sur ces 12 titres.

AOD préfére la lourdeur à  la célérité et garde un certain sens de la mélodie, ce qui est appréciable. Cela rend leur death supportable à  l'oreille. Les meilleurs titres sont "Hate", "P.S.", "Lord'z Of Killing" et "Brute". On peut dire que ce groupe en a dans le caleçon! Il déchire tout et arriverait à  séduire des fans de power et de heavy classic.

Quant à  DCA, dont les titres ont un son assez en retrait, nous donne une certaine nausée, comme tous les groupes de grind et les paroles, comme vous pouvez vous en douter, ne sont que violence et perversion. Musicalement, DCA nous propose un grind thrashy et doté de nombreuses cassures, caractéristique principale du grind. Eux aussi peuvent se forger une réputation sur la scène extrême francophone, concurrençant ainsi des formations comme Ultra Vomit ou Gronibard, bien qu'étant moins humoristique. Les titres à  retenir sont "Anal Vomit" et "Facial Bloodshot".

Pas mal pour un début.
Recently: