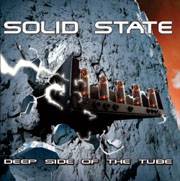 Depuis quelques années, maintenant, Bon Jovi nous a fait faux bon et a laissé tomber le hard rock pour une bouillie sonore infâme et indigeste. Et le monde du hard s'est retrouvé sans ses hyper-stars…Mais, c'était sans compter sur un groupe de frenchies, influencés par le hard fm made in USA, qui veulent reprendre le flambeau là  où le "beau" blond Jon Bon Jovi l'a laissé tomber pour gagner encore plus de billets verts.
Que pouvons-nous dire sur Solid State? Et bien, que c'est un groupe français qui a vu le jour en 1999 sur la Côte d'Azur. Leurs influences sont assez larges, allant de Extreme à  Bon Jovi (bien sûr), en passant par The Offspring. Leur premier album, intitulé 'Deep Side of the Tube', contient 11 compos qui condensent leurs influences sur une seule et même galette, ceci grâce une production claire (bien qu'un peu faiblarde, les guitares n'étant pas totalement mises en avant), des compos plus ou moins intéressantes grâce aux claviers, mais, surtout grâce à  la voix particulière de Pit Ljunggren, le chanteur du groupe, dont la voix ne correspond pas vraiment au style pratiqué par le groupe. On aurait plutôt tendance à  voir Pit chanter soit dans un registre plus grave et plus heavy, soit dans un registre plus rock à  la Bryan Adams. Pourtant, il se débrouille comme un chef et donne une coloration particulière à  ces 11 titres.
Au niveau des compos, les morceaux qui se détachent du lots sont "Circus", qui rappelle un peu le "Poison" d'Alice Cooper avec sa mélodie de refrain, "Bob" et son intro super marrante avec l'eau qui coule et les oiseaux qui gazouillent, mais, surtout de par son côté Extreme très prononcé (ce morceau n'aurait pas dépareillé sur le deuxième album du combo ricain, le fameux 'Pornograffiti'), "Do.U.C Me" qui ressemble à  s'y méprendre à  un mélange d'Aerosmith et de Joan Jett, la ballade "One Day", tendre et magnifique, "Other Side", plus rock'n'roll tu meurs, "Can You Feel", semi-ballade électrique très énergique et mélodique et enfin, le country "All I Want", qui se révéle être, avec "Bob", le meilleur titre, mais, aussi, le plus original.
Solid State a su se forger sa propre identité et se démarquer des autres groupes de hard us/hard fm, ce qui est rare de nos jours. Et bien qu'il n'a pas l'envergure du groupe qu'était Bon Jovi durant sa grande époque, Solid State a le talent et le potentiel pour obtenir une place de choix parmi le gratin du hard.
16/20
Recently: