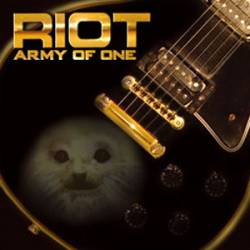 Riot est un groupe tenace, un peu comme Iron Maiden, car, malgré les modes musicales fluctuantes, il n'a jamais changé de voix d'un iota, ceci depuis 1977. Toujours aussi heavy, bien que s'étant, néanmoins, un peu adouci au niveau des refrains, hyper mélodiques, Riot vient de nous sortir un nouvel album intitulé 'Army of One', très bon album au demeurant.
Le quintet américain a mis 4 ans pour mettre en bacs le successeur de 'Through the Storm', une durée inhabituelle pour eux si l'on excepte celle qui sépare 'Born in America' de celle de 'ThunderSteel' ou celle de 'The Privilege of Power' de 'Nightbreaker'. La patience des fans a été récompensée car le power quintet a eu un pointe d'inspiration. Cela s'entend à  l'écoute de "Army of One", morceau le plus rapide de leur n-ième album, de "One More Alibi", "It All Falls Down", le lourd et rentre-dedans "Helpin Hand", le tubesque "The Mystic", "Alive In The City" et son côté Bon Jovi fort explicite, "Shine" et la ballade instrumentale "Stained Mirror" et "Darker Side Of Light" qui clôt l'album avec brio.
Bien sûr, Riot n'évite parfois pas la redite, ce qui peut lasser l'auditeur, qui éteindra sa platine au bout d'une ou deux écoutes, mais, son sens de la mélodie devrais prévaloir sur ce sentiment.
'Army of One' est un bon album, mais, il lui manque quelque chose qui aurait pu le rendre encore bien meilleur et le porter au même rang que d'autres albums sortis en 2006 et qui l'éclipsent sans aucun doute. Comparé à  'Born in America', par exemple, 'Army of One' est un peu plat et l'amertume nous envahit quand on se dit que le groupe est capable de nous créer un chef d'oeuvre et qu'il ne l'a pas encore fait. Peut-être la prochaine fois, qui sait…
Recently: