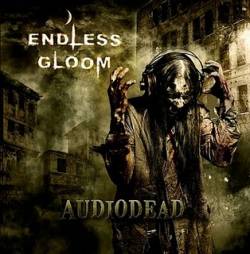 C'est quatre ans après un « Corpsporation » macabre et auto produit que les russes d'Endless Gloom reviennent en force avec un nouvel opus cette fois ci signé chez MSR Productions, jouissant d'ors et déjà d'une meilleure qualité de son. Le quintette originaire d'Orel a déjà pu faire de nombreuses apparitions en Russie, ce qui lui a permis d'avoir un public certain.
« Audiodead » arrive en 2010 comme une bombe auditive, prenant pour concept la violence des sons. Endless Gloom continue de nous brutaliser avec un death metal aux quelques relents deathcore tout en se rapprochant de formations reconnues telles que Six Feet Under (pour les vocaux) ou Vader (pour le riffing). Les riffs carrés et précis du duo de guitaristes ainsi que le growl très grave de Dimitriy arrivent à instaurer une violence palpable, n'hésitant pas à intégrer quelques breaks de ci de là ainsi que quelques parties plus thrashisantes (« Eyes That Will Never Open Again »).
Mais c'est sans doute avec le morceau introducteur « Feet First » que tout se joue, notamment avec un sample inquiétant en introduction (cris et ambiances lugubres) suivi d'un riffing impeccable et d'un enchaînement très réussi. La mélodie concoctée se pare d'une certaine rapidité d'exécution dans l'emboîtage riff/growl. Dommage cependant que la production écrase un peu trop le son de guitare, favorisant le claquement de la basse et le côté redondant des vocaux.
« Join Us ! », qui figurait sur le premier single, continue d'instaurer cette atmosphère malsaine, encore une fois grâce à un sample mettant en scène une voix distordue et à des riffs lents et pesants, avant de partir vers quelque chose de plus rythmé et entraînant, même si c'est bien le growl qui mène la danse.
En général, les riffs ne manquent pas de variations et arrivent parfois à être technique et brutaux, le death metal d'Endless Gloom se colorant. « Status : Myortv » mélange bien ce côté death technique et ces relents deathcore avec une agressivité certaine, malgré une trop grosse compression du son, dénaturant par ailleurs le côté naturel du riffing.
Endless Gloom aura eu sa chance, mais elle a des limites dans la mesure où son « Audiodead » se veut être à demi teinte, tant dans l'inspiration que dans les divergences de qualité du son. Le quintette, malgré une bonne atmosphère et un côté varié, doit encore travailler la cohérence de l'ensemble musical afin de créer un tout unifié.
Leave a reply
You must be logged in to post a comment.