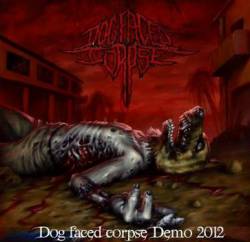 Il y a des pays qui croulent sous le death metal, comme la Suède ou les Etats Unis qui ont vu naître, petit à petit, les maîtres du genre. Il y a d'autres pays qui commencent à émerger, en Extrême Orient par exemple, que ce soit en Inde ou à Singapour, les formations de brutal death se font de moins en moins rares et imposent une marque de fabrique sous le signe de l'underground. Puis il y a le Moyen Orient et sa scène chaleureuse qui aura mis du temps à se mettre en avant. Et pour cause. La politique et la religion sont des facteurs primordiaux qui empêchent les plus passionnés de faire de la musique, du metal qui plus est. Qui aurait donc cru que Dog Faced Corpse arriverait à aller au bout de ses rêves afin de monter le premier groupe de death metal irakien.
Il n'y a que deux groupes de metal en Irak : Acrassicauda (thrash metal), et Dog Faced Corpse, fondé en 2008 par le batteur Lateef. Le quintette en question, malgré les difficultés, a enfin réussi à sortir sa première démo, signée chez Salute Records, le label suédois de l'underground. Dans un pays tiraillé par les conflits où porter un pentagramme est synonyme d'appartenance à la religion juive, Dog Faced Corpse et leur « Demo 2012 » s'octroient une imagerie gore inspirée des histoires morbides de leur pays : les mutilations, les meurtres, le chaos…Prenant comme symbolique le chien, les Irakiens intègrent cette figure tout le long de leur compositions, comme une mascotte sanglante et terrifiante.
Dog Faced Corpse s'inspire de groupes bien brutaux tels que Cannibal Corpse, Suffocation, Gorgasm ou Disgorge, ce qui s'entend immédiatement à l'écoute des morceaux. « The Drill » commence par un sample de tronçonneuse avant d'alterner parties rapides et brutales et parties plus lentes, aux guitares saccadées. Le groupe essaie d'être technique lors de ce type de partie, tentant de montrer une certaine maîtrise de ses instruments. Idem sur un « Broiled » furieux et sans pitié, marqué par le côté implacable de la batterie, et des riffs, mais surtout par une influence jazzy en fin de titre.
Car oui, Dog Faced Corpse ne se contente pas d'influences brutal death, mais intègre une fois de temps en temps des influences de musique classique ou jazz, ce qui est plus flagrant sur « Channel of Decomposed » et sa partie bien mélodique, ce qui donne un peu de répit face à cette agressivité palpable. Que ce soit ici ou ailleurs, les lignes de basse sont bien ficelées.
Faute de moyen, les compositions manquent toutefois de puissance et de maîtrise, l'ensemble étant souvent trop brouillon et le son bien underground, ci bien qu'un défaut de production atteint chaque titre, la guitare étant reléguée au second plan ou inversement avec la batterie. Malgré le concept apparent, les quatre morceaux ont du mal à tenir en haleine, bien que l'agressivité soit à toute épreuve, le growl s'apparentant parfois à un grognement de chien. Toutefois, il est clair qu'avec plus de moyens, Dog Faced Corpse pourrait fournir un death metal plus racé, plus représentatif et moins compressé, même si cette première démo est encourageante et que la prise de risque est indéniable.
Leave a reply
You must be logged in to post a comment.