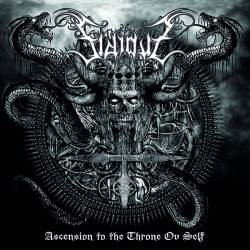 Des nouveaux nés, on en a tous les jours. Des formations moyennes, on en voit beaucoup trop et il n'est pas évident de trouver celle qui passe à travers les mailles du filet. Pourtant, en voici une qui a beaucoup de potentiel. Non elle n'est pas russe mais bel et bien anglaise. Originaire de Londres et récemment formée par des membres du groupe de doom/death Eye Of Solitude, elle montre un nouveau visage à la scène black symphonique anglaise. Loin du gothique de Cradle of Filth, de l'épique de Bal Sagoth et de la majesté de Saturnian, le quintet a décidé de s'orienter du côté de la brutalité.
C'est au mois de mai que sort le tout premier EP « Ascension to the Throne Ov Self » signé chez le label français « Kaotoxin Records » responsable de sorties récentes remarquées tel que le « Black Throne of All Creation » de Dehuman ainsi que le « Scorn Aesthetics » d'Ad Patres. Sidious ne se situe pas si loin de ses frères metalleux puisque le death metal domine une bonne partie de ses morceaux. Pour être plus précis, le groupe officie dans un black/death symphonique brutal, un style qui manque assez de représentant. Inspiré principalement par le death metal polonais (Vader, Behemoth, Decapitated, Crionics) et le black symphonique norvégien (Dimmu Borgir, Old Man's Child), Sidious livre une musique relativement puissante et violente où s'entremêlent la brutalité des riffs et la fine noirceur des claviers.
L'EP commence sur les chapeaux de roue avec un « Insurmountable Mass » sans concessions. L'intro symphonique finit par laisser place à un death typiquement polonais avec des touches black, des incursions aux claviers et des envolées au piano qui ne sont pas sans rappeler Vesania. C'est un fait : Sidious, contrairement à beaucoup de groupes actuels dans le genre, nous montre de quoi il est capable dès le départ et ne nous laisse pas le temps de nous ennuyer. Même si on découvre des breaks supposés ralentir le rythme et apporter un peu de douceur, on repart peu de temps après dans la déflagration, en témoigne « Sentient Race », sorte de mélange entre le Dimmu Borgir actuel et le Crionics du passé (période « Human Error : Ways of Selfdestruction ») avec le growl en plus.
Le reste de l'EP met l'accent sur des parties plus tournées vers le black, mais toujours avec la dominance du growl sur quelques lignes de chant criés. Sidious met aussi davantage en avant le contraste entre brutalité, mélodie et atmosphère. Les ambiances obscures arrivent alors à prendre de l'ampleur, les riffs ne faisant qu'un avec les envolées au violon et les notes pessimistes au piano, pas si loin d'Immanifest. En guise de rupture, le final de l'éponyme « Ascension to the Throne Ov Self » montre un ensemble beaucoup plus lent, quasi doomesque, avec ce growl, ces riffs et ce rythme écrasants, soutenus par des chœurs sombres.
Enfin un groupe qui arrive à sortir convenablement des sentiers battus avec un opus beaucoup plus brutal que la norme dans le domaine du black symphonique. Malgré des influences polonaises et norvégiennes évidentes, Sidious a plus d'une corde à son arc puisqu'il arrive à mêler le tout avec talent. Il a de plus dans ses rangs quelques membres issus du doom/death, et cela se ressent en particulier dans le dernier morceau, ce qui lui permet d'étoffer sa musique. On attend donc le full length, histoire de voir si Sidious peut tenir la cadence et conserver toute sa puissance sur une dizaine de titres.
Leave a reply
You must be logged in to post a comment.