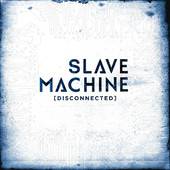 Slave Machine est un groupe formé par Kevin et David en 2011 avec pour but de créer une musique puissante taillée pour la scène et influencée par la scène metal industrielle actuelle. Il leur faut deux ans pour compéter le line-up et s'atteler à la composition de leur premier album,[Disconnected], enregistré au mois de mars 2013 sous la production de David Potvin (One Way Mirror, T.A.N.K.), signé chez Dooweet Records et sorti au mois d'octobre dernier.
C'est après une introduction industrielle menée par des guitares rageuses que la machine se met en route. Les Parisiens nous offrent « Anthrophobia » et nous balancent toute leur rage grâce à des riffs tranchants et à une rythmique efficace. Pourtant, malgré ces qualités, les points faibles se font rapidement ressentir, notamment la mise en arrière plan des éléments industriels, qui peinent finalement à immerger l'auditeur, et la faiblesse du chant : une alternance de chant criard qui manque d'articulation et de chant clair atmosphérique qui a ses limites à la fois dans les aigus et dans les graves.
Dans tous les cas, l'alliage est dans l'air du temps et on sent que le groupe veut nous faire un mélange de modernité et de brutalité, un peu à la manière de Fear Factory mais en moins thrashy et avec un chant plus hardcore. Il faudra se pencher sur « Just Like Me » pour découvrir un Slave Machine plus inspiré. Il s'agit d'un titre qui remplit plutôt bien son contrat puisque les touches indus, le côté saccadé des riffs et la rage du chant arrivent à nous transporter dans le concept d'un groupe désirant mettre un terme à toutes les nouvelles technologies.
« Relevant » montre que les Parisiens ont de la gnac mais prouve surtout que les compos sont avant tout taillées pour la scène. Le martèlement, l'incision des riffs et les hurlements en sont un bon exemple (un titre comme « Will You » aussi).
[Disconnected] est en réalité un album qui manque légèrement de personnalité mais qui doit certainement plus s'apprécier en concert ou en soirée metal avec des copains qu'en écoute isolée sur son canapé. Cela se ressent d'autant plus dans le mixage, qui met relativement en valeur les grattes, la batterie et le chant hurlé au détriment du chant clair et des bidouilles industrielles, beaucoup plus en retrait. Cela nous donne finalement envie d'une seule chose : aller voir Slave Machine en concert.
Leave a reply
You must be logged in to post a comment.