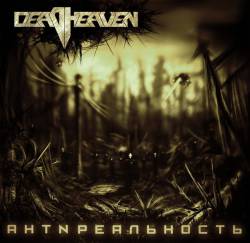 La Russie est souvent à l'honneur quand un album de Cyber Metal débarque. Celui-là ne déroge pas à la règle. DeadHeaven s'est formé très discrètement en 2012 avant de mettre en ligne les morceaux er trailers promotionnels. Aujourd'hui, le quatuor diffuse sur la toile son premier album auto-produit « Antirealnost » dans la lignée de groupes comme All For Fake, Digimortal ou Deathharmonic.
DeadHeaven confirme le fait que le cyber metal russe est un style qui se distingue. Il n'est pas aussi polyrythmique et désespérée que le cyber suisse (Sybreed, Breach The Void…), pas aussi robotique et brutal que le cyber français (Noein, Techny-Call X) et pas instrumental pour un sou comme le fait la vague djent (Ex Machina, Kreepmaster, Tyrant Of Death). Il s'oriente plus vers une alternance de passages bien tranchants et de passages plus atmosphériques, avec pas mal de bidouilles électroniques mettant en avant une ambiance plus synthétique voire futuriste.
« Antirealnost » suit ce schéma et impose un concept cohérent et immersif grâce, notamment, à trois titres instrumentaux d'une minute trente tout au plus (« ????????… », « Opus Exterminatus » et « ?????? », mélange de cyber et de dark ambient) et à une évolution significative au fil de l'album, à savoir une première moitié plus tournée vers l'agressivité et une seconde moitié plus mécanique que jamais.
Le morceau d'ouverture, « ???? », est une vraie tuerie avec un riffing de départ pouvant faire penser à celui de « Bioactive » (Sybreed) mais qui se dirige ensuite vers quelque chose de plus personnel. Les cris imposants sont aux couplets, et le chant clair atmosphérique aux refrains, le schéma est classique mais fonctionne bien ici puisque rien n'est linéaire. On a droit à quelques breaks menés aux claviers, et quelques soli entre deux déflagrations comme sur « ????? » ou encore « ???????? ?????? ». Efficace.
La seconde partie de l'album nous montre un beau travail d'ambiance, de bidouilles et de groove, tantôt avec un « ?????? ????????? » rappelant Illidiance avec son rythme dansant et ses voix trafiquées, tantôt avec un « ????? ???????? » aux sonorités très mécaniques, tantôt avec un « ??????????-???? », ballade cybernétique réussie, relevant l'atmosphère pessimiste.
Deadheaven démarre bien l'année un premier méfait très réussi et loin d'être ennuyeux puisque chaque morceau possède une identité qui lui est propre. « Antirealnost » est efficace et relativement puissant pour une auto-prod, sans oublier la cohérence du propos et la diversité des riffs et des sonorités. Cela ne présage que du bon pour l'avenir.
Leave a reply
You must be logged in to post a comment.