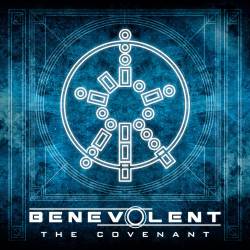 Il est de plus en plus intéressant de se rendre compte que les musiciens du Moyen-Orient s'ouvrent petit à petit de nouvelles portes. Le metal pose bien des problèmes et il n'est pas toujours aisé d'officier dans ce domaine. Les Emirats Arabes Unis recueillent pourtant bon nombre de formations comme Voice Of The Soul, Anuryzm, Nervecell ou encore Benevolent. Formé en 2007 par les frères Hadi et Fadi Sarieddine, ce groupe officie dans le metal extrême expérimental et sort son premier full length « The Covenant » démontrant un travail ambitieux et très bien produit.
Benevolent semble s'amuser à fusionner le djent de Meshuggah, le death progressif d'Opeth et la musique ambiante. Ce métissage osé permet au groupe de sortir de la masse et s'offrir une place de choix parmi les combos de djent les plus originaux. Il faut dire que c'est un style qui tend de plus en plus à s'essouffler, la polyrythmie ayant ses limites. Mais Benevolent débrouille plutôt bien, si on en juge la qualité des compositions et leur efficacité. Il ne faut pas avoir peur de la longueur puisque les musiciens n'hésitent pas à dépasser les neuf minutes, mais ils le font à bon escient. En effet, les changements de rythmes, de structures et d'atmosphères sont fréquents, ce qui permet à l'auditeur de ne pas s'ennuyer. On découvre alors les différentes facettes de Benevolent.
L'intro « Void » plutôt électronique laisse place à « Asphyxia » et son alternance djent, mélodique death, prog et passages ambient. Sur certains plans, et surtout grâce aux claviers, au growl et aux gros riffs, on croirait entendre du Scar Symmetry. Mais pas que. Benevolent s'influence d'un bon paquet de formations mais arrive à y intégrer son identité : chant clair sensible, mélodies recherchées, parties acoustiques, effets à la guitare, comme sur « The Seeker », ou interludes instrumentaux de toute beauté histoire d'aérer l'album comme « Radiate », « Dissipate » ou « Rebirth ».
L'alternance entre brutalité et douceur, agressivité et tendresse, bourrinage et mélodie, lourdeur et légèreté, growl et chant clair est plutôt raffinée et travaillée. On sent que le groupe a travaillé d'arrache pied, et pour cause. Cela fait 4 ans que les fans du groupe attendaient cet opus. « The Collector » et « Ascension » en sont de bons témoins. Impossible de passer à côté.
Benevolent nous offre un album moderne, efficace, avec beaucoup de sensibilité et un sens tout particulier de l'harmonie et de la mélodie. C'est agréable et surtout on passe un bon moment. « The Covenant » est un bon compromis pour ceux voulant autant de gros riffs que de gros passages ambiants. Un régal.
Leave a reply
You must be logged in to post a comment.