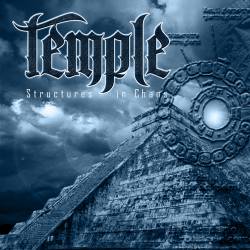 Né de la collaboration entre AJ van Drenth (ex-Beyond Belief) et de Rachel Heyzer (ex-Sinister), Temple est une nouvelle formation néerlandaise de brutal death incluant des membres ou ex membres de The Monolith Deathcult, Sinister ou Prostitute Disfigurement. Désireux de se tourner vers quelque chose de beaucoup plus mystique, le trio s'est vite engagé à enregistrer son premier album « Structures in Chaos » peu de temps après le départ de Heyzer et l'arrivée du bassiste Dekker.
Visiblement inspiré par les croyances pré-colombiennes tels les polonais de Calm Hatchery, Temple nous fournit un effort personnel, bien qu'entouré de figures du death metal néerlandais telles que Stephan Gebédi (Thanatos, Hail Of Bullets) ou Marloes (Izegrim) en chanteurs guest, entre autres. C'est le long de ces neuf morceaux que les invités apportent leur talent, tout en laissant le champ libre aux véritables membres du groupe qui ne lésinent en rien sur le côté brutal et implacable de la musique.
C'est avec « Rituals of Marduk » que commence l'opus, souffrant dès le départ d'un problème de cohérence (« Marduk » étant un dieu mésopotamien et non Maya/Aztèque). Cette erreur se dissipe très vite lorsque la double pédale s'engage avec ferveur parradée des cris de Van Drenth et de riffs tranchants et sans pitié pouvant rappeler The Monolith Deathcult. « Higher Perfection » nous gratifie d'une harmonie non négligeable au sein de cette brutalité palpable, le chant étant une alternance de cris et de growls, certaines ambiances sombres étant relevées par des samples morbides et inquiétants.
A la manière d'Impurezza ou de Krisiun, Temple utilise une touche hispanique sur l'outro de « Multiverse » ou sur l'ouverture de « The Algol Planet » afin de nous rappeler le thème de l'album. Mais cette introduction douce et chaleureuse n'est que le calme avant la tempête car les blasts beats et le déluge de riffs carrés ne se sont pas volatilisés pour autant, loin de là, le tout précédant un « Dead Sun Festival » doomesque, lent et lourd dans le riffing.
C'est entre deux parties sauvages que la voie aérienne féminine de Marloes fait son apparition sur « Cover Her in Blood », rappelant quelque peu les apparitions de Cindy dans Hypnosis. Une touche de clavier impérial pointe le bout de son nez sur le début de « Matagatsubi » afin de mettre en valeur « l'esprit courbé », tandis que « Among Ravens » nous gratifie de samples de croassement.
Heureusement que ces samples ou ces quelques caractéristiques sont là, sans quoi les morceaux paraîtraient presque identiques, les structures étant les mêmes, les blasts continus et les riffs, du même acabit, même si quelques ralentissements sont présents pour aérer l'ensemble de l'album. Cela n'empêche pas à Van Drenth de maîtriser son chant, entre cris monstrueux et growls profonds, et de profiter de certaines situations pour lancer des offensives.
C'est tout de même un album efficace et puissant que nous offre Temple, signant chez le petit label néerlandais Non Serviam Records. Ce « Structures in Chaos » met bien en relief le talent de ses membres et montre bel et bien que la scène death metal des Pays-Bas reste solide.