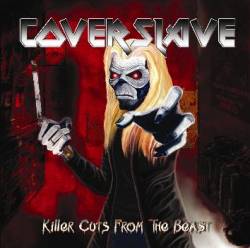 Iron Maiden a toujours suscité l'admiration et a permis à de nombreux groupes d'émerger, notamment Edguy ou Dream Theater. Néanmoins, outre ces combos professionnels, nous pouvons aussi nous familiariser avec des "coverbands", tels que The Iron Maidens, The Clairvoyants et nos compatriotes frenchies de Coverslave, pour ne citer que les plus connus, qui reprennent pour s'éclater le répertoire de Steve Harris & co. Pour notre plus grand bonheur, certains des tribute-bands de la Vierge de Fer nous ont pondu des tribute-albums. C'est le cas, notamment, de Coverslave, qui vient de mettre sur le marché, via le label Brennus, leur premier enregistrement officiel, justement intitulé 'Killer Cuts from the Beast'.
Celui-ci est composé de 6 titres qui pètent vraiment la forme et qui ont été piochés sur divers albums des britanniques. Le groupe, mené de main de maître et avec brio par l'excellent chanteur Stéphane Graziani, joue de façon carrée et très professionnelle. Il est impératif que le groupe nous sorte un album avec leurs propres compositions, car il est évident que nous tenons-là un groupe qui sort de l'ordinaire et qui possède un énorme potentiel musical.
Quel régal à l'écoute de "Powerslave" ou de "Caught Somewhere In Time", où le frontman se révèle être un mélange vocal entre la puissance de Dickinson et le ton rauque de Di'Anno… cela s'entend surtout sur "Be Quick Or Be Dead", "Killers" et "Phantom Of The Opera". Le seul bémol de l'album étant "Brave New World", un chouilla trop mou du genou… Pourtant, le son est tout à fait honorable, malgré son atmosphère "vintage".
Néanmoins, c'est un grand honneur de posséder enfin dans notre verte Gaule, notre groupe officiel français de reprises de Maiden ! Très bon EP. Vivement un 'Killer Cuts Of The Seventh Son' !!

Recently: