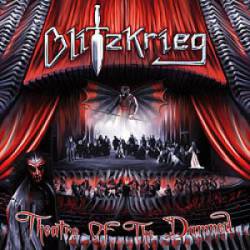 Rares sont les groupes de la NWOBHM à avoir survécu à la période Grunge : Iron Maiden, Motörhead, Saxon, Judas Priest et peu d'autres sont toujours en vie. Blitzkrieg fait, heureusement, partie de ces survivants, car il nous permet aujourd'hui de découvrir une facette méconnue des groupes de cette mouvance, qui a été suivie par de nombreux groupes plus ou moins récents, tels que Wolfsbane, Gamma Ray ou Machine Men.
Dès le premier titre ("Theatre of the Damned", qui ressemble un peu à du Black Sabbath période Ozzy ou à du Rage époque 'Soundchaser') de ce neuvième opus des britanniques intitulé 'Theatre of the Damned', sûrement en référence à Iron Maiden et son fameux "Children Of The Damned", on comprend vite dans quelle direction musicale nous allons, car nous avons des structures à tiroirs typiques de la New Wave Of British Heavy Metal, des riffs de guitares assez agressifs et sombres, des solis hyper mélodiques et une voix à la Paul Di'Anno et ses cris de hyène affamée. Tout est dit! Nous sommes renvoyés tout droit dans les années 80, ce qui ne nous rajeunit pas. Mais, que c'est super bon de revenir à une musique sincère et directe, gardant tout de même les mélodies caractéristiques et des refrains facilement mémorisables.
Les titres se succédent dans un déluge de saturation ("The Phantom", "Devil's Spawn", "My Life Is My Own", "Spirit Of The Legend" qui est le meilleur morceau de l'album à mon humble avis, il suffit de se fier à la mélodie principale, aux doubles pédales, ainsi qu'au refrain mémorable, "Tortured Souls", l'hymne "Together We Are Strong" proche de ce que fasait Blaze Bayley en solo sur 'Silicon Messiah' ou 'Tenth Dimension', bien que le vocaliste de Blitzkrieg, Brian Ross, possède sur cette chanson un timbre à la Ville Laihiala de Poisonblack et ex-SenTenced, ce qui est surprenant, "Nightstalker", les bonus "Armageddon" et "Blitzkrieg"), entrecoupés de passages plus calmes (l'interlude "The Passing" et "Into The Light" semblable à certains titres de SenTenced période Laihiala), pour nous permettre de nous remettre de nos émotions.
Le gros plus de cet album réside sans aucun doute dans le voyage dans le passé que nous invite à faire Blitzkrieg à travers ses 12 compositions, meilleures les unes que les autres, afin de redécouvrir toute une génération musicale de haut niveau, mise de côté par le grunge, le néo-métal, le death, le black, et le gothique symphonique. Le groupe nous montre, donc, d'où il vient, ses racines, avec fierté et talent, mais, en oubliant, malheureusement de nous offrir un son moins brouillon et plus actuel…ce qui n'aide pas les chansons à sortir vraiment du lot. Mais, Blitzkrieg est un groupe professionnel qui possède une véritable force de caractère et d'excellentes compos, ce qui l'aide depuis plus de 20 ans à vivre dans un monde métallique en perpétuelle évolution. A suivre forcément!
Recently: